Main Content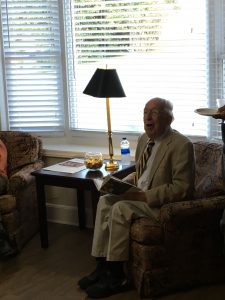 By Alex Abrams
Ed Wilson sat in a plush chair with a book of poetry in his hands.
Rather than enjoying a quiet evening, Wilson entertained the small crowd that gathered on October 23 inside the renovated house at 2430-A Reynolda Road with poems by former Poet Laureate Billy Collins.
Looking up every so often from his book, he recited Collins' poem "Schoolsville" about a retired college professor adjusting to life away from the classroom. The crowd laughed as Wilson read aloud.
After all, many of the people in attendance for the grand opening of the College House were retired Wake Forest faculty members – including Wilson, the longtime English Professor and Provost affectionately known as "Mr. Wake Forest."
The opening lines of "Schoolsville" seemed to describe perfectly many of the people who were visiting the College House for the first time:
"Glancing over my shoulder at the past,
I realize the number of students I have taught
is enough to populate a small town."
The College House is a new space that the Wake Forest College has created on the edge of campus to help retired faculty continue their scholarly work and feel welcomed as valued members of the WFU community.
"I think the University is doing a great thing for us really because you don't want to disconnect from the place you have worked at for so many years," said Patricia Dixon, who spent 38 years as a faculty member in the Department of Music before retiring at the end of the 2017-18 academic year.
"You want to continue to collaborate, and you want to continue to add to the knowledge of the whole place."
Over the past few months, Wake Forest College has converted a house, originally built in 1960 and used until recently by the Department of Environmental, Health, and Safety, into a warm workspace for retired faculty members.
The College House has four offices furnished with desks, providing retired professors with a quiet place to write and work on their research from 7 a.m. to 7 p.m. Monday through Friday. Making it even easier on them, ZSR Library will deliver any books they request to the College House.
A renovated kitchenette is located in between the offices. The building also has a large living room area that is decorated with Wake Forest pillows and photographs of campus.
"I hope the College House will become a place where [retired faculty] will come and meet their friends, their former colleagues, and come and have coffee and talk and catch up and stay connected to the life of the University. We want them not to drift away, but to continue to fill a vital role in the life of the College." Doug Bland, who was named Director of the College House after retiring as Associate Athletic Director in 2018 following 43 years at WFU
There was plenty of life and festivities at the College House's grand opening.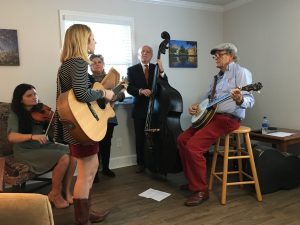 Music filled the building as a bluegrass band, that included Russian Professor Billy Hamilton and Dean of Admissions Martha Allman, played in the gathering area. At the same time, several department chairs mingled with retired faculty.
Of course, Wilson's poetry reading was the main event. The crowd gathered around his chair beside the College House's bay window to hear him read.
Like the former college professor who narrates Collins' poem, many of the retired faculty in attendance know the feeling of being asked by students "a question about Yeats or double-spacing." They have also transitioned to a new phase of their lives after retiring from academia.
The College House should help make that adjustment even easier.
"I think for everyone who retires it's tough leaving their career and what they've done for a long time. Certainly that's true of faculty," Bland said. "Now I think they would like to continue their scholarship.
"They've been involved in that for their entire lives, since they were undergraduates perhaps, so to give them a place where they come and work and continue to do scholarship is a service that I think they'll appreciate."
Wake Forest faculty should visit the following page for more information about the College House.