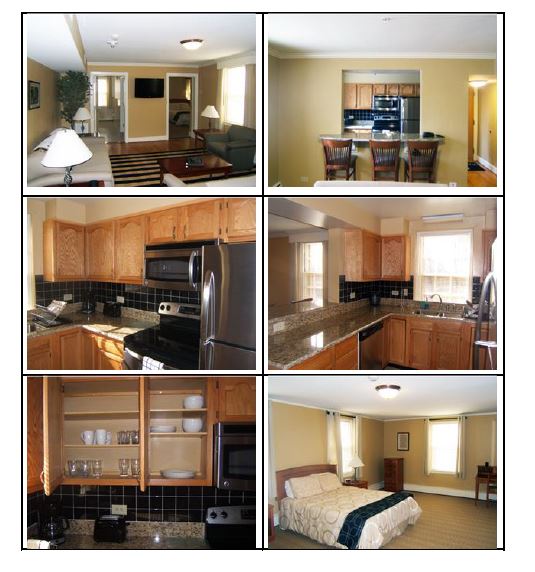 During the months of August-May, the Office of the Dean of the College maintains two short-term guest apartments in the complex on Allen Easley Drive. Renovated in Summer 2019, apartments are beautifully furnished and include dishes, assorted cooking utensils, and bedroom and bathroom linens. Each of the Dean's apartments has two bedrooms: one bedroom with a queen bed, one with a sofa bed. First-come, first-serve reservations are accepted up to one year in advance for visiting scholars and speakers. Special circumstances may be considered. Rates – monthly: $960, weekly: $300, and nightly: $75.
Sponsoring departments will need to check for availability through Leigh Anne Robinson (336.758.5312) in the Office of the Dean of the College. If an apartment is available, the requesting department will complete the Dean's Office Reservation Form, including an email request stating the purpose and duration of the visit and the responsible party. All other inquiries should be directed to Dana Muto (336.758.5185) in Residence Life & Housing. More information can be found here.
Arrival Procedure
Keys may be picked up in Residence Life and Housing in Maya Angelou Hall.
If arriving after normal office hours (Monday through Friday 8:30 am to 5:00 pm), please call University Police at 336.758.5591 for assistance.
University Police will contact the RLH staff member on call and that person will meet the guest in front of the Benson Center (located on the right upon entering Lot 5).
RLH staff will have required registration paperwork ready for guest signature.
RLH staff will then issue guest a key and key card and escort the guest to the assigned apartment.
Key and key card should be deposited in key box located on the wall of the main entrance upon departure.