Main Content
FYE 101: The College Transition
By Alex Abrams
On their last day of class, a group of students gathered in Carswell Hall and laughed as they shared what had gone well for them during their first semester at Wake Forest University.
They talked about making new friends, bouncing back from adversity, and juggling a busy social life with a hectic class schedule. Of course, some of the students admitted they needed to stop procrastinating and start going to bed before 1 a.m.
The largest section of FYE 101: The College Transition in Fall 2018 included a diverse group of first-year students. They had their differences despite all of them being the first member of their families to attend college.
One student had long hair dyed blue, while another student sitting in the back of the classroom wore a tie-dyed T-shirt.
All of the students in this section of  FYE 101 had been encouraged to enroll in the one-credit course to help make their transition to WFU go as smoothly as possible. The class, which met for an hour every Monday afternoon, gave students a safe space to talk openly as a pair of professors taught them about such topics as resilience and the value of a liberal arts education.
"I enjoyed FYE 101 because it did make the transition easier, and it helped me feel included. It was comforting to know that several other students were in similar positions as I was and were confused as to the necessary steps we needed to make in some situations." Alondra Ramirez, a first-year student from Winston-Salem
Professors who teach the first-year experience course can find themselves acting as mentors and academic advisors for their students. They provide support and talk with their classes about ways for them to be successful academically, maintain their wellbeing, and live together with people who have different backgrounds and political views.
During a particularly difficult time in the fall, when Ramirez said she felt overwhelmed with her grades, her classes, and everything else, she turned to Shannon Ashford, WFU's Program Manager for Diversity Education and one of Ramirez's FYE 101 professors.
Ashford co-taught the class with Nate French, Director of WFU's Magnolia Scholars program and Assistant Teaching Professor of Communication.
"There is a greater world, and I think this class for just one credit talks to students about how to be introduced to that larger world at Wake Forest," French said. "Here is why you take advantage of study abroad, not just where the office is for example. Here is why you take advantage of service activities. Here is why you take advantage of leadership opportunities.
"Here is what that's going to do for your life, not just for this particular moment."
Faculty members use a mix of conventional teaching methods and some out-of-the-box approaches in their FYE 101 classes.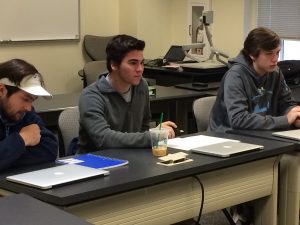 Students are given large sheets of paper at the beginning of the semester and asked to draw "life maps" that illustrate their personal journeys. This assignment promotes the self-awareness that underlies good academic choices, well-being, and the valuing of diversity.
Students also learn what is deliberative dialogue and have personal, sometimes uncomfortable discussions about underage drinking and instances when they experienced exclusion, racism, disappointment, or failure.
Like with more traditional college courses, FYE 101 professors incorporate theories and research into their classroom discussions.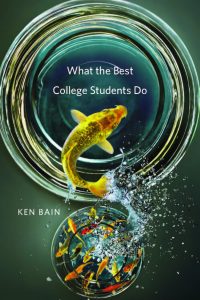 Students are required to read from an assigned textbook, What the Best College Students Do (2012). In addition, they learn and discuss concepts – on such topics as cultural understanding and competence – that research shows promote a smoother transition to college and more success during their college years.
"As someone who led the team designing this course and is aware of expectations for credit-bearing classes, I approached coverage of academic content in a way I'm used to expecting in the classroom," said Christy Buchanan, Senior Associate Dean for Academic Advising who taught FYE 101 in 2016 and 2017.
"But in contrast to some other classes we might teach, we're definitely making that connection to the students' personal lives in transition to college and what's happening to them. We're asking them to connect academic principles to experiences they are having in that first semester, and we're allowing discussion of those connections."
A first-year student from New York, Benny Potter admitted he had some reservations about enrolling in FYE 101 after he sat through a number of character-building seminars in high school. He quickly realized his worries were misplaced.
Assured of seeing each other at least once a week in class, Potter formed such a strong connection with French that the first-year student now considers his FYE 101 professor an integral part of his support system at WFU.
Potter also learned how to deal with the social tension and emotional issues that can come from being a minority on WFU's campus, which is gradually becoming more diverse.
"I am confident that if my classmates were asked, they wouldn't hesitate to express how impactful the class' professors and structure were to the advancement of individual thought processes and expression," Potter said.
The FYE 101 Pilot Program, first offered in Fall 2016, follows a national trend in which universities are examining the ways they support first-year students at a time when they are especially vulnerable.
"The No. 1 thing is if a student transitions well, then they will stay and graduate. If they don't transition well, they will leave. It's a bottom-line kind of issue." Nate French, Director of the Magnolia Scholars program
Starting in 2014, a committee comprised of WFU faculty and staff members – including from the Committee for Orientation and Lower Division Advising, the Division of Campus Life, and the Office of Diversity and Inclusion – brainstormed ways to improve the first-year experience for students.
Committee members realized that for as much planning goes into New Student Orientation a week of programming in August did not properly prepare new students to adjust to college life.
"They haven't sat in a college classroom. They haven't experienced disappointments in a college classroom. They haven't experienced the normal challenges that we know await many of them," said Buchanan, who served on the committee.
"They haven't yet experienced having problems with their roommates or feeling like they don't belong and not knowing what to do with that. Or feeling down and discouraged, or not getting enough sleep, or learning how to balance everything they will try to balance."
Data collected over the past two years shows first-year students who took FYE 101 during their first semester at WFU improved in several areas, including in engaged learning and academic determination. They also become more interested in learning about people with different experiences.
Still, not all faculty are sure about teaching FYE 101.
Tom Phillips, Director of the Wake Forest Scholars Program, admitted he initially questioned if a course like FYE 101 was even needed. He figured the class would require resources and faculty that could be better served elsewhere on campus.
Phillips also wondered if first-year students needed to be taught in a classroom about the growing pains that they often experience as they adjust to college life. However, his opinion about FYE 101 has changed after teaching the class each of the past two falls.
"I think in some ways the class becomes a refuge for students," Phillips said. "It's one hour a week with low pressure where they can think, get to know one another, students that they otherwise might not necessarily have in their immediate social group. They learn to connect to each other and can be honest in talking about their fear of failure and many other issues."
And research shows that by doing so they could very well have a more successful college experience in the long run.
The Wake Forest College of Arts and Sciences invites all faculty to consider teaching FYE 101 in Fall 2019. If you are interested in teaching this one-credit, pass/fail class – or wonder why you should be – read more here. Also, feel free to email undergraduateadvising@nullwfu.edu.