Main Content
This is part of a series highlighting new faculty in the Undergraduate College at Wake Forest.
By Alex Abrams
Francisco Gallegos wants his students to understand that philosophical ideas are relevant to their own lives. If they know what to look for, they can see the connections every day.
Without a doubt, Wake Forest University's newest Assistant Professor of Philosophy has his own style for teaching and conducting research.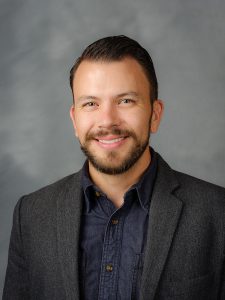 Rather than focusing his research on many of the well-known philosophers, Gallegos is doing what might be the first English translation of some of Mexican phenomenologist Jorge Portilla's essays.
At the same time, Gallegos gives his students the opportunity to be creative and submit a piece of reflective writing, a multimedia essay, or even a work of art to illustrate how the study of Philosophy applies to their lives.
"Our department, I have to say, we have a lot of different styles and approaches and traditions among us. We're super harmonious, so I think there's an openness to inviting someone in whose approaches may be different than the rest of us," said Stavroula Glezakos, Associate Department Chair and Associate Professor of Philosophy.
"But then also we can see 'I don't teach that way, but it's really good for students and, I think, for our whole culture here to be able to see and appreciate different approaches.' So yeah, [Francisco] brings that."
The Department of Philosophy wanted to fill an open faculty position following the retirements of Professor Charles Lewis in 2016 and Professor Julian Young in 2018.
The department hoped to hire an assistant professor who examines such philosophical areas as existentialism and continental thought like Lewis and Young.
When Gallegos came to campus and taught a class as part of his job interview, his passion for teaching and his unconventional style became apparent.
"One of my colleagues said it was the best-taught class he had ever seen in his career, and that's saying a lot, and then hearing Francisco when he talked about his research. He works on issues that are very relevant contemporarily." Stavroula Glezakos, Associate Department Chair and Associate Professor of Philosophy
Gallegos wrote a paper about the nature of emotion that blends the works of philosophers from the nineteenth and twentieth centuries with present-day questions about emotion.
He is teaching Basic Problems of Philosophy in addition to Social and Political Philosophy – a course that examines issues such as social identity, injustice, and the common good.
"He's someone who's interested in kind of expanding the figures that are taught and encountered by students," Glezakos said. "And I think for some of us that was really appealing to just be like 'He is expanding the canon a little bit.'"