This award is for a faculty member in the Wake Forest College who is still in the early part of their career. The award was established in 1971 and renamed in 1986 in recognition of the generosity of the late Wilbur Doyle ('48), who endowed the prize to honor his philosophy professor, A.C. Reid. The Reid-Doyle Prize is also supported by the Alumni Council and the Alumni Association. Recipients are announced at the Faculty Meeting in May.
Nomination guidelines:
Wake Forest College Junior Faculty Members who hold the rank of Assistant Professor or who were promoted from Assistant to Associate Professor in the last academic year are eligible for this prestigious award. These faculty members must be tenure strain (this includes Professors of the Practice).
Nominations for the Reid Doyle Teaching Award are submitted by chairs, program directors, or senior faculty (with chair approval) from within the nominee's department or program. Chairs should consult the senior faculty in their departments to confer about nominations. Nominations are limited to one nominee per department per round.
In one document with clear delineations, nominations should include:
A letter written or endorsed by the chair (maximum 3 pages)
Nominee's CV
A brief description of how teaching is evaluated in the department
Excerpted highlights from narrative comments from student evaluations (no more than 2 pages)
Evidence that peer or chair evaluation of teaching materials (syllabi, assignments, quizzes, exams, etc.) confirms that course requirements are suitably demanding and grading is sufficiently rigorous
Quantitative summaries of student evaluations, if available
Nominations are submitted to Sarah Frederick (frederis@wfu.edu) in the Office of the Dean of the College.
A committee composed of all previous award winners and representatives from the Office of the Dean of the College reviews the nominations and makes a selection.
The 2023 winner of the Award for the Reid-Doyle Prize for Excellence in Teaching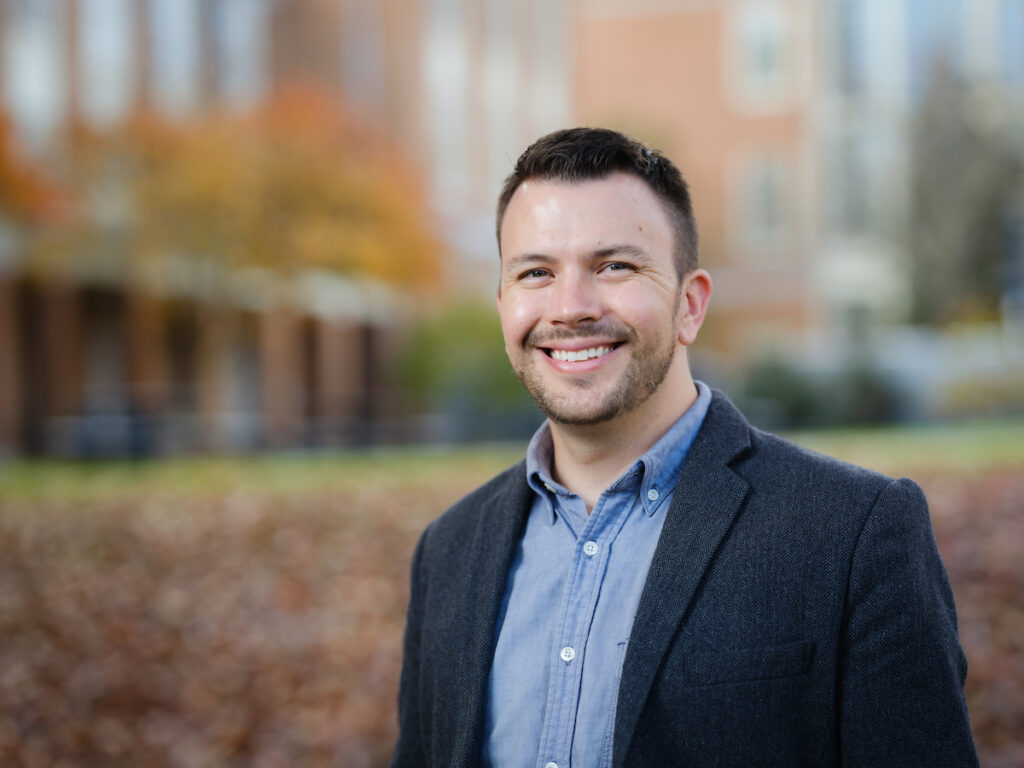 Dr. Francisco Gallegos
Assistant Professor of Philosophy
---
Nominations Deadline
The 2023-2024 award's nomination deadline is Wednesday, October 18, 2023.
The Reid-Doyle Prize for Excellence in Teaching Winners
| Academic Year | Winner | Department |
| --- | --- | --- |
| 2022-2023 | Francisco Gallegos | Philosophy |
| 2021-2022 | Qiaona Yu | East Asian Languages & Cultures |
| 2020-2021 | Andrius Galisanka | Politics and International Affairs |
| 2019-2020 | Stephanie Koscak | History |
| 2018-2019 | Robert J. Erhardt | Mathematics |
| 2017-2018 | E. J. Masicampo | Psychology |
| 2016-2017 | Michael Sloan | Classics |
| 2015-2016 | Tina Boyer | German |
| 2014-2015 | Timo Thonhauser | Physics |
| 2013-2014 | Jennifer Beth Erway | Mathematics |
| 2012-2013 | Oana Jurchescu | Physics |
| 2011-2012 | Wayne Pratt | Psychology |
| 2010-2011 | Jessica Richard | English |
| 2009-2010 | Erik Johnson | Biology |
| 2008-2009 | Christian Miller | Philosophy |
| 2007-2008 | Paul Thacker | Anthropology |
| 2006-2007 | Errin Fulp | Computer Science |
| 2005-2006 | Brook M. Davis | Theatre |
| 2004-2005 | Martin Guthold | Physics |
| 2003-2004 | Hugh Howards | Mathematics |
| 2002-2003 | Peter Siavelis | Politics |
| 2001-2002 | Christa Colyer | Chemistry |
| 2000-2001 | Nina Maria Lucas | Dance |
| 1999-2000 | Gordon McCray | Calloway School of Business and Accountancy |
| 1998-1999 | Jeffrey Lerner | History |
| 1997-1998 | Michele Ware | English |
| 1996-1997 | Helga Welsh | Politics |
| 1995-1996 | James Powell | Classical Languages |
| 1994-1995 | Simone M. Caron | History |
| 1993-1994 | Page H. Laughlin | Art |
| 1992-1993 | Claudia Thomas | English |
| 1991-1992 | Alton B. Pollard | Religion |
| 1990-1991 | Antonio Vitti | Romance Languages |
| 1989-1990 | Stephen B. Boyd | Religion |
| 1988-1989 | Ann Boyle | English |
| 1987-1988 | Katy Harriger | Politics |
| 1986-1987 | Susan P. McCaffray | History |
| | Barry G. Maine | English |
| 1985-1986 | Carole L. Browne | Biology |
| | Saguiv Hadari | Politics |
| 1984-1985 | Catherine T. Harris | Sociology |
| 1983-1984 | Deborah L. Best | Psychology |
| 1982-1983 | Susan C. Jackels | Chemistry |
| | James Dodding | Theatre |
| 1981-1982 | Rick Matthews | Physics |
| 1980-1981 | David S. Weaver | Anthropology |
| 1979-1980 | Elmer K. Hayashi | Mathematics |
| 1978-1979 | Ralph C. Wood Jr. | Religion |
| 1977-1978 | Alan J. Williams | History |
| 1976-1977 | Ronald L. Blankespoor | Chemistry |
| 1975-1976 | William C. Kerr | Physics |
| | Fred L. Horton | Religion |
| 1974-1975 | Roger A. Hegstrom | Chemistry |
| 1973-1974 | Patricia Johansson | English |
| 1972-1973 | James P. Barefield | History |
| 1971-1972 | John C. Moorhouse | Economics |
| | Peter D. Weigl | Biology |
| 1970-1971 | David K. Evans | Anthropology |
| | Jon M. Reinhardt | Politics |