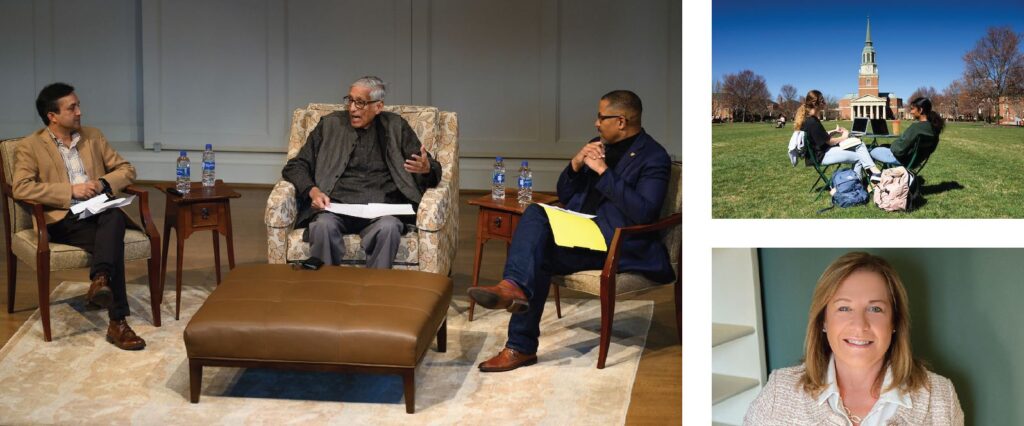 Transitions offer growth, opportunity, and vision – and these next several weeks will bring such moments across the College.
Dr. Jackie Krasas has been announced as the new Dean of the College and Dean of the Graduate School of Arts & Sciences, effective July 1. Dr. Krasas' extensive expertise, research career, and administrative leadership at Lehigh University, where she currently serves as Deputy Provost for Faculty Affairs, display her strong commitment to the Teacher-Scholar model that we prioritize. I am excited to welcome her to Wake Forest. You can read more about Dr. Krasas on the Wake Forest News website.
Throughout this past year, my appreciation has grown for our community's shared commitment to our academic mission. College faculty and staff continue to offer our students unique opportunities to engage in deep inquiry and intellectual exchanges that will inform their lives, not just their careers. I am profoundly grateful for your efforts.
– Tony Marsh, Interim Dean of the College
Spring 2023 Calendar
Submission Dates Bolded
1/17, Submissions due 1/10
2/6, Submissions due 1/31
2/27, Submissions due 2/21
3/20, Submissions due 3/14
4/17, Submissions due 4/11 (last of the regular digests)
Honors & Awards on 5/10, Submissions due 5/2
The Dean's Office Digest is a bi-weekly newsletter. Submission deadlines for each edition are the Tuesday prior to the publication date.
Please note that submissions will be edited to fit the space available for the Digest, and the number of times an announcement can run may be limited.
Contact Bethany Leggett if you would like to submit information to be included.
The Digest will automatically be sent to faculty. Click here to subscribe with another email address.
Archives