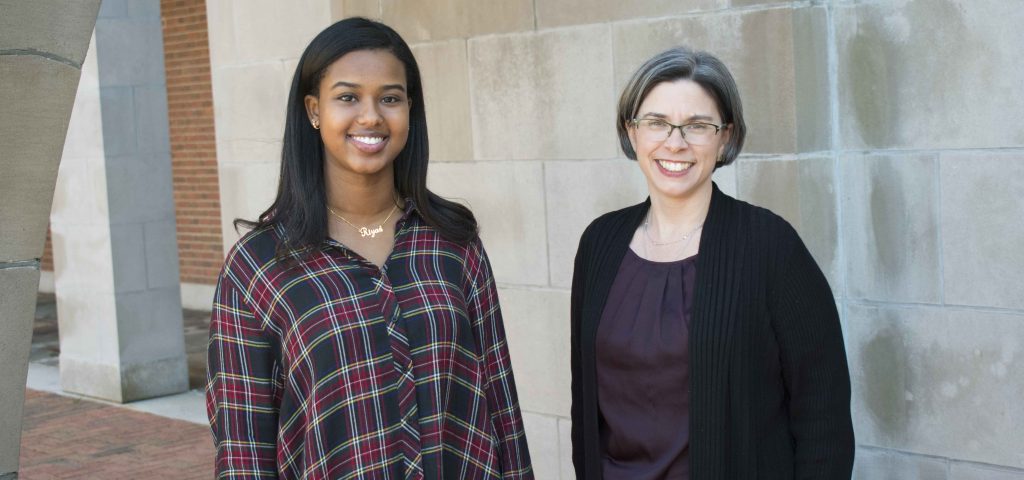 By Alex Abrams
Ana Iltis and Riyan Deria had spoken in person and over email, often sharing ideas and documents on Google Drive.
However, when Iltis wanted to spend more time discussing a research project involving sensitive federal records, the Philosophy professor traveled to South Carolina to meet with Deria instead of having the sophomore visit her office in Tribble Hall during summer break.
The 19-year-old Deria had returned home to Spartanburg following her freshman year at Wake Forest University. So Iltis, the Carlson Professor in University Studies, caught a ride with her husband and met Deria at a Starbucks off the highway.
Over coffee, the professor and the student discussed their extensive research into some of the controversial methods used in clinical trials for antidepressants.
"It is sometimes better to sit down with somebody face-to-face than to talk on the phone. I think sometimes you make a lot of progress that way," Iltis said. "We're working on new ideas and new ways of doing things. I was doing new things on this project, too."
Over the past year, Iltis and Deria have formed a dynamic research team that has used dogged investigating to try to determine whether the clinical trials that led to the approval of the 18 most-prescribed antidepressants included individuals with suicidal tendencies.
If these patients are excluded from clinical trials, as is often the case, then Iltis and Deria argue healthcare professionals are prescribing antidepressants to the group most at risk without having accurate information regarding whether the medication can increase the risk of suicide.
Since the largest drug manufacturers keep their information about clinical trials guarded, Iltis and Deria have had to comb through stacks of medical publications and federal records from the Food and Drug Administration to try to find answers.
A librarian showed them how to send Freedom of Information Act requests to the FDA. A psychiatrist at Augusta University has helped them understand the differing medical terminology used by the makers of antidepressants and design the study.
Deria will present her findings with Iltis at the Association for Practical and Professional Ethics conference in Baltimore, Md., on Saturday, March 2, 2019.
"I was really excited," Deria said of learning she would be presenting at the prestigious conference. "It just kind of gave some validation into the work, everything we put into it, and then being able to see it come full circle."
Iltis had already come up with the idea for the research project before meeting Deria, but it took shape after the two were introduced in January 2018.
Deria arrived at WFU unsure of what she wanted to major in, but she had a strong interest in studying public health after presenting a high school project on the healthcare system in Somalia – where both of her parents were born.
Tom Phillips, Director of the Wake Forest Scholars Program, suggested during Deria's freshman year that she reach out to Iltis, who serves as Director of the Center for Bioethics, Health, and Society. There was only one problem, though.
"I should say I'm not trained in public health. I am not a public health scholar," Iltis said, laughing. "I am a philosopher, and I do work in bioethics and as a result of that have connections to the public health world in terms of ethical issues in public health."
Nonetheless, Iltis and Deria began collaborating on the research project last spring. The professor showed the then-freshman how to do a literature search, and as expected, they discovered the FDA publishes little information on the participants in clinical trials.
As a result, Deria has spent countless hours doing database searches in the hopes of finding a match between the description of a clinical trial for an antidepressant and the few details the FDA published about the drug's approval.
If the information matches, then Iltis and Deria can assume they are about the same trial.
"We've spent some time in study rooms in ZSR Library with tables covered with papers, literally going through research articles wondering how do we pull out the data we're looking for from all these pieces," Iltis said.
"So it's turned into not just a kind of theoretical paper but an empirical project looking at specific publications and looking at how certain kinds of information is reported in the psychiatric literature."
With Iltis serving as her mentor, Deria had done enough research on the clinical trials for antidepressants that she was able to present on the topic at Undergraduate Research Day in late September. Her poster was entitled "Exclusion of Mentally Ill Patients from Clinical Trials."
Deria's research with Iltis is not for a class. It is more of a side project for the sophomore who plans to be a Psychology major with a Bioethics, Humanities, and Medicine minor and eventually go to medical school.
After her presentation at the APPE conference, Deria will continue working with Iltis on writing an academic paper about their research that they will eventually be sent for peer review.
There are also more stacks of federal records for the sophomore to comb through to find other clues about the participants in clinical trials.
"I actually did enjoy doing research, but I think the one thing I had to get used to was just what I was looking for was probably not going to be there," Deria said. "So that was one kind of adjustment, but other than that, I find it really interesting digging and sleuthing as you call it."