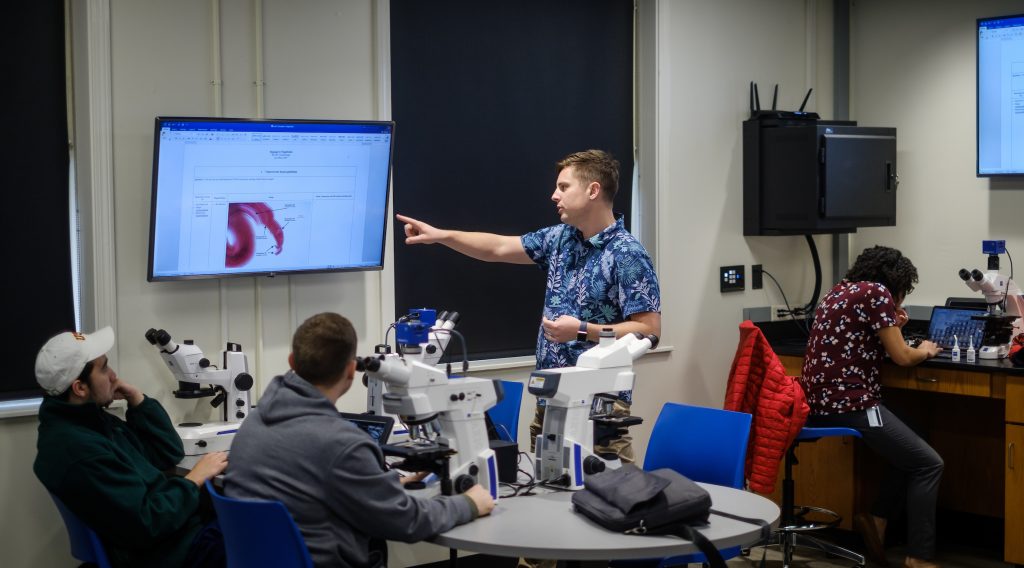 By Alex Abrams
Sheri Floge was growing 15 types of plankton inside a refrigerator on the bottom floor of Winston Hall, far from where the microorganisms thrive in the Atlantic Ocean.
In another room inside Wake Forest University's Department of Biology, Floge – one of the department's newest Assistant Professors – had a first-year student helping to create an ocean-like environment for the plankton to live in her laboratory.
The student started with the purest water from a filtration system and then added salts until he had the ideal seawater to use for Floge's research on how marine viruses influence phytoplankton in the ocean.
"I don't need to be by the ocean for my work, especially for the projects that we have going now," said Floge, who joined WFU's faculty in 2018. "It's better to use artificial seawater because natural seawater has a wide range of organic compounds that would interfere with our analyses."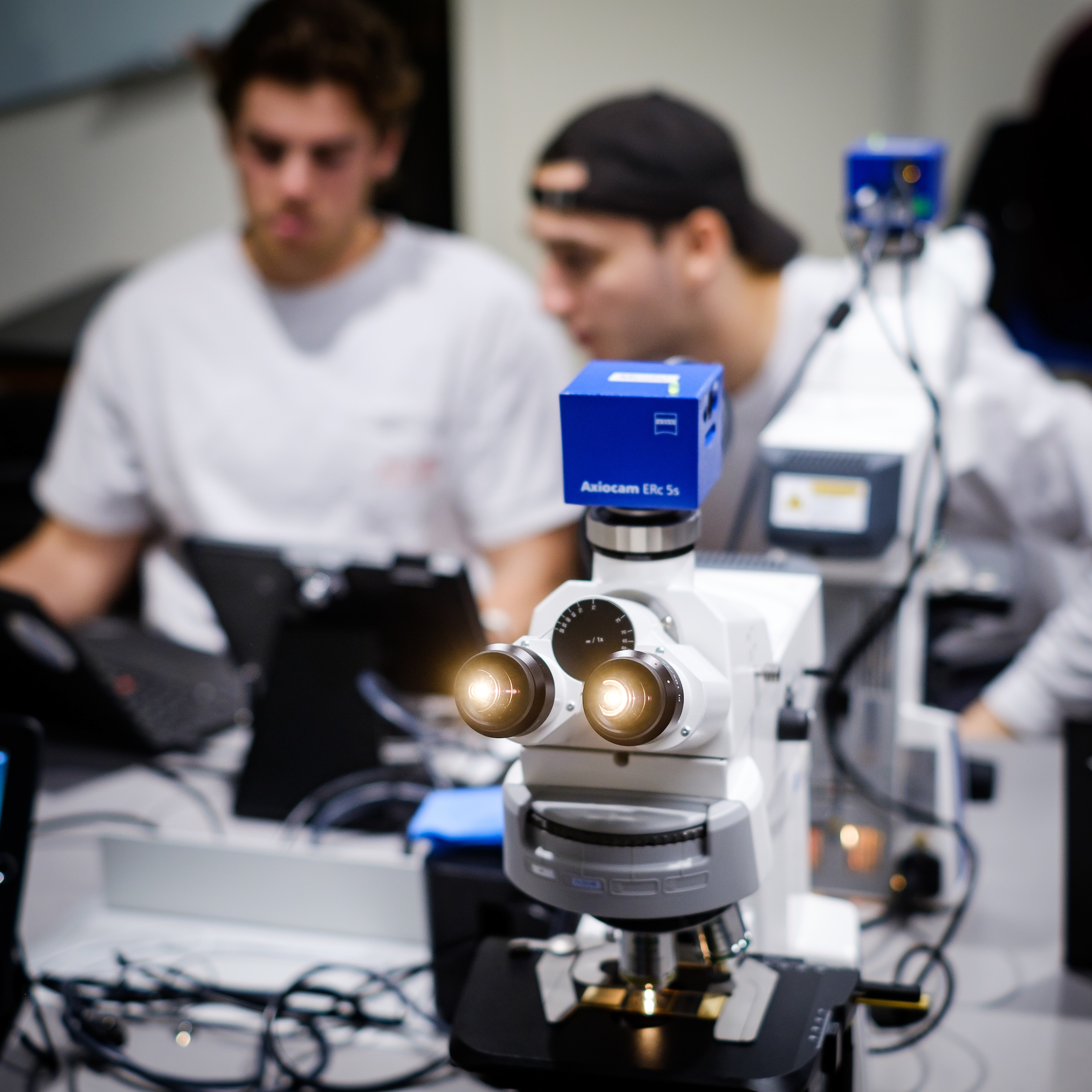 Along with controlling the temperature, the lighting, and exactly what is in the water, Floge viewed under a microscope as plankton infected with a virus interacted with the things that eat them.
Her cutting-edge research is part of WFU's strong commitment over the past decade to making Microscopy – the science of using microscopes to observe objects that cannot be seen with the naked eye – more accessible to undergraduate students.
Over the past two years, WFU has opened a new imaging center in Wake Downtown and a state-of-the-art Microscopy teaching lab in Winston Hall. Students learn how to use high-powered microscopes and are then given access to them to conduct research and assist professors with their extensive work.
When Wake Downtown opened in 2017, WFU added a second imaging center for faculty and students to conduct microscopic research to go along with the center that was established years ago in Winston Hall. Both centers house an impressive collection of fluorescent, electron, and stereo microscopes.
In addition, the two imaging centers are equipped with confocal laser scanning microscopes that are so powerful WFU faculty – with assistance from students – have used them on everything from viewing the insides of an earthworm to developing chemicals for anti-cancer therapies.
The Department of Physics recently performed a 24-hour cell imaging experiment using Wake Downtown's confocal microscope, which WFU acquired in January 2017.
"That's one of the emphases at Wake Forest that's very special, that the undergrads themselves would be able to do primary research," said Glen Marrs, a neuroscientist who serves as WFU's Microscopy Facility Director.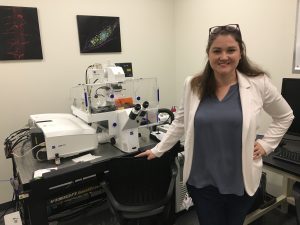 "They're actually the ones on the microscopes collecting the data where at other universities the undergrads might be doing a little portion of it, but then they'd sit there and watch someone else do the work."
Marrs and Brown-Harding train students on the proper ways to use all the microscopes, including the expensive confocal microscopes. Once the students feel comfortable, they are free to use the instruments anytime they are available – including evenings or weekends for students with extensive experience.
Continuing that mission of providing engaged learning, WFU spent several years converting Associate Biology Professor Ke Zhang's old laboratory in Winston Hall into a fully equipped Microscopy teaching lab that opened Spring 2019.
The lab has space for 16 students to view under microscopes some of what they learn in their Biology classes. For instance, they can see what malaria looks like when the life-threatening disease is magnified hundreds of times.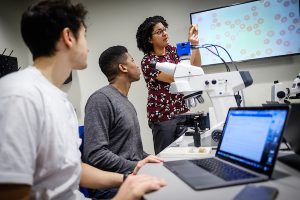 "Before this, I really had not used a microscope since sixth grade probably," said Malcolm McSwain, a Class of 2020 Biology major.
Upper-class students taking BIO 321: Parasitology during the Spring 2019 semester meet twice a week for classroom lectures with Regina Cordy, Assistant Professor of Biology. They then spend almost three hours every Tuesday afternoon getting hands-on learning in the new Microscopy teaching lab.
As her students look under the microscopes, Cordy can walk around the lab and help them use the instruments. If she wants to point out a specific parasite, she can find it under a microscope and then show it on one of the lab's large wall-mounted monitors.
Students can also take high-quality photographs of what they observe with an iPad connected to each microscope. They no longer have to try their best to sketch a cell on paper.
"That's a much more common sort of approach that you'll see in education, having students essentially look at something under a microscope and draw what they see, which could be quite difficult sometimes to really capture what you're looking at," Cordy said.
"So the ability for them to look under the microscope, take pictures, bring it into a software, and then annotate on the picture is pretty advanced for an undergrad."
In other words, students get to experience the same feeling that Floge gets when she is observing plankton living in her lab. It is all about the act of discovery and, as she describes it, "putting the pieces together to learn something new about the world."