By Bethany Leggett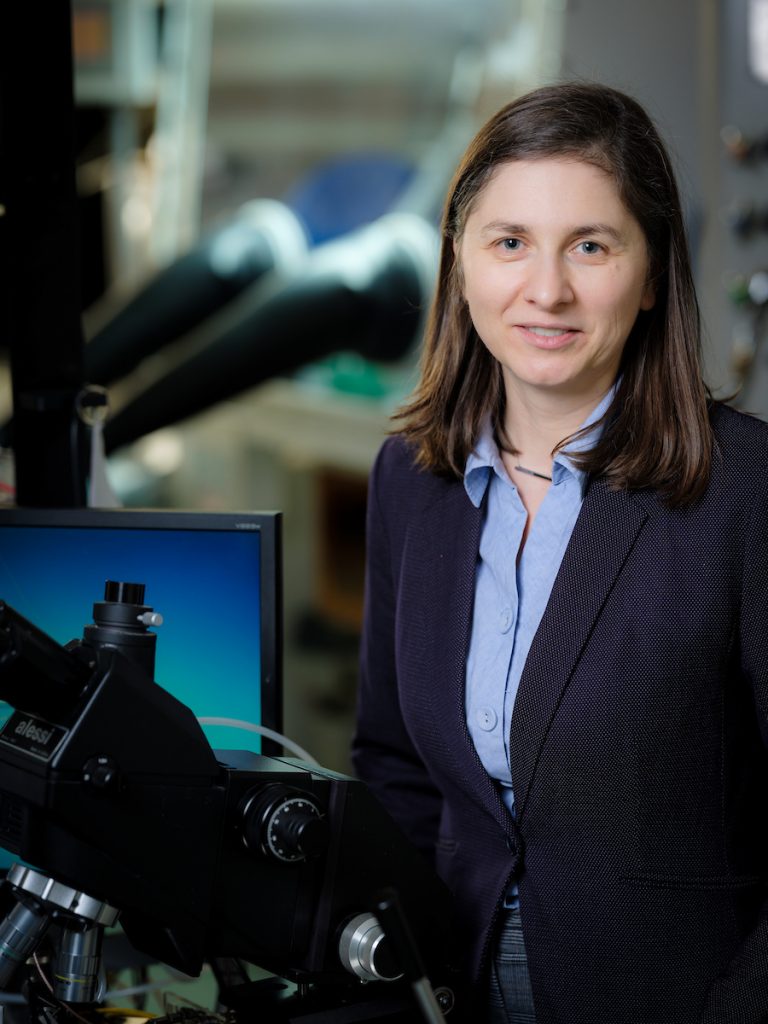 Dr. Oana Jurchescu has been named the Baker Family Professor of Physics, an endowed position within the Department of Physics starting July 1, 2021.
"It is wonderful to receive this recognition for my teaching, research, and mentoring efforts. I am honored by the fact that the university is recognizing my work and grateful to the Baker family for their generosity. Many thanks to the people who have mentored me along the way — and continue to do so — and to the past and current members of my research group who helped me become a better mentor," said Jurchescu.
The endowed professorship is among the highest honors the College can award a faculty member and is reserved for those who have made significant contributions to the student experience, the University community, and their field of research.
Jurchescu is known for her outstanding academic accomplishments, exemplary teacher-scholar approach, and strong student mentorship. "I have long been a huge Oana Jurchescu fan," said Michele Gillespie, Dean of the College and Presidential Endowed Chair of Southern History. "Oana's scholarly might, alongside her dedication to teaching and mentorship of her students, makes her a truly extraordinary contributor to the intellectual life of our Wake Forest community and beyond. I am so delighted we can recognize Oana's excellence with the Baker Family endowed chair."
Since her arrival at Wake Forest in 2009, Jurchescu has been consistently recognized for her teaching and scholarship by the University through numerous awards, including the Physics Faculty Excellence in Teaching Award twice; the URECA Award For Excellence in Mentorship in Research and Creative Work; the Reid-Doyle Prize for Excellence in Teaching; the Kulynych Family Omicron Delta Kappa Award; and the WFU Award for Excellence in Research.
Dany Kim-Shapiro, Professor and Chair of the Department of Physics, says that Jurchescu has excelled in applying her talent and passion to an academic career. "She is exceedingly gifted, and she is driven by her love for science and her love for mentoring students. It is no wonder that she has reached this level of success," he said.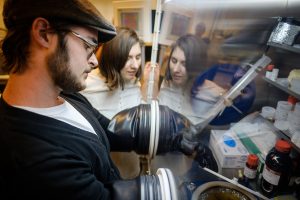 Jurchescu runs the Organic Electronics Lab, which includes a team of postdoctoral researchers, graduate students, visiting scholars, and undergraduates working on research that tackles topics such as bioelectronics, development of functional materials and devices, and structure-property relationships in organic semiconductors. Those who have worked in Jurchescu's lab have gone onto successful research careers, defended theses, and been selected as Goldwater, Churchill, and Gates Cambridge scholars.
Jurchescu has contributed significantly to the fields of experimental condensed matter physics and organic and flexible electronics, publishing nearly 100 peer-reviewed manuscripts and four book chapters. She holds three patents, gave more than 50 invited and plenary talks at international conferences, and secured close to $10 million in research funding. In 2013, she received the National Science Foundation CAREER award. She has organized many conferences within her discipline and serves on editorial boards for prestigious journals such as Chemical Physics Reviews (AIP), Journal of Materials Chemistry C (Royal Society of Chemistry), and Organic Electronics (Elsevier).
Read more about Jurchescu at Wake Forest News.