Gloria Stickney has been with Wake Forest for 21 years, the last 12 in her current role as the Grants & Contract Manager for both the Department of Physics and the WFU Center for Nanotechnology & Molecular Materials.
How has Wake changed since you started?
When I first came to work for Wake Forest, I worked in Human Resources and all employment applications and benefit elections were paper copies. There were less than 10 employees in HR at the time.
What have you enjoyed most while working at Wake?
I enjoy my job at WFU. I enjoy tackling complicated tasks and the challenge of completing them ahead of schedule. I have enjoyed working with an amazing group of faculty and staff who are highly driven and inspire me to do the same.
Tell us about a favorite interaction with a student or faculty member.
I have enjoyed being a part of the team to host the Artisans' Fair each year. We have volunteered our time and resources to bring together a group of super talented Wake Foresters to share with the Demon Deacon community their special creations.
What is a fun fact about yourself that would surprise students to hear?
I worked for a dialysis unit for a few years before moving to Forsyth County and I have a phobia of needles and blood! I also worked as a teachers aide for a few years after college and rode the school bus every day assisting with special needs elementary school children.
What activities do you plan to enjoy when your retirement begins?
I am looking forward to retiring from WFU. Retirement will provide more time to devote to Sew Fabulous, Inc. making WF products and t-shirt quilts. We have expanded the business to become an online fabric store and more. We also have plans to travel, spend more time with family and devote more time to ministry with our church.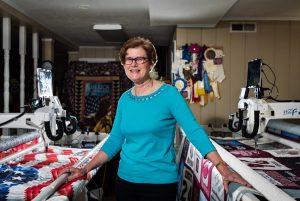 Gloria Stickney