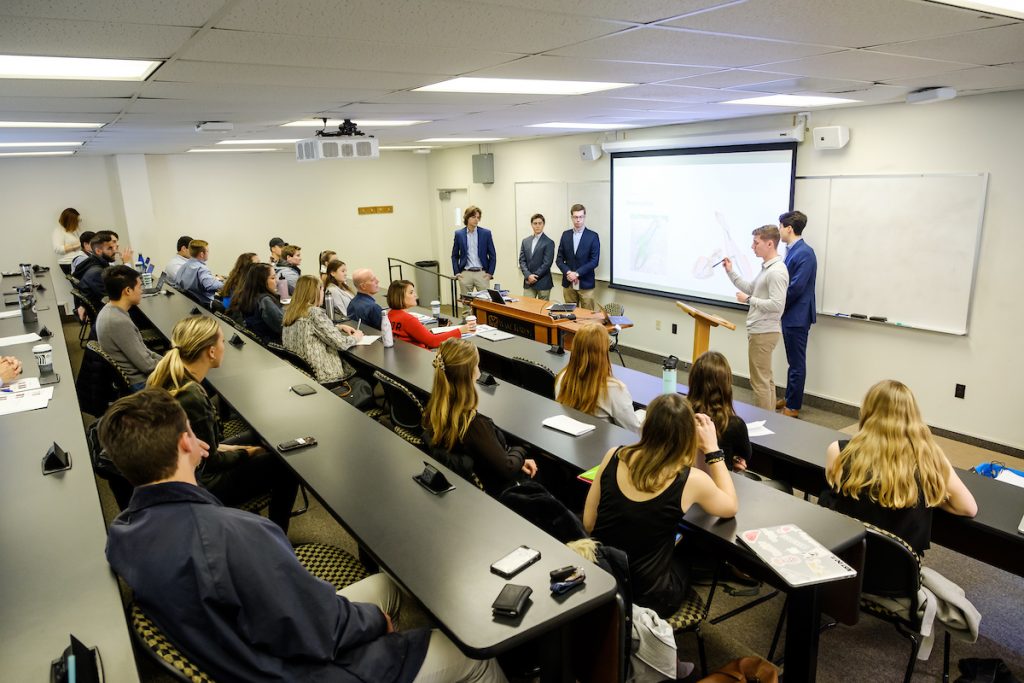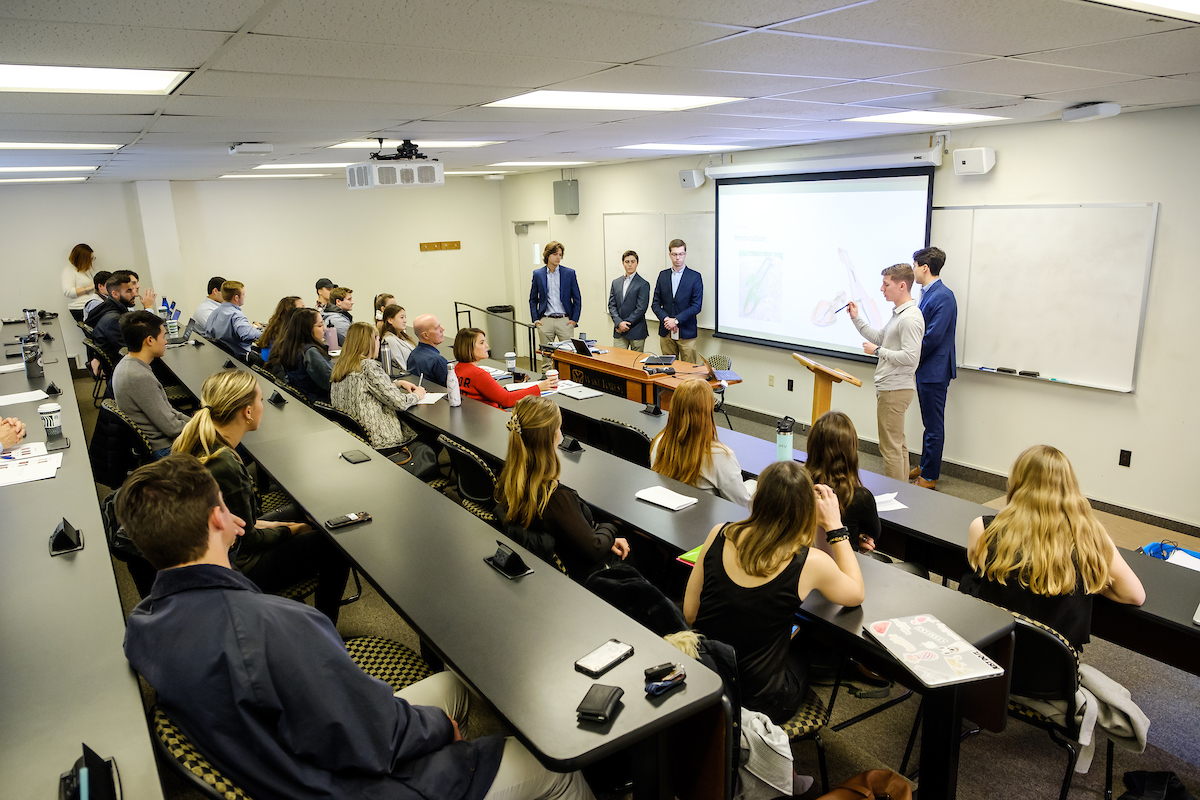 By Bethany Leggett
A new semester brings a new rotation of students and, with them, a breadth of new ideas in Dan Cohen's "Entrepreneurial Venture: From Concept to Harvest" (ENT 205) class. The course, which is part of the Entrepreneurship minor program at Wake Forest College, is entering its second year of offering live cases for students to strategize and pitch solutions to actual entrepreneurs at the end of eight weeks.
"Entrepreneurship is such a part of young people's futures, whether they become entrepreneurs or not," said Cohen, Professor of Practice in Entrepreneurship and the John C. Whitaker, Jr. Executive Director of The Center for Entrepreneurship. "People have to be prepared for an uncertain, unpredictable future; and they have to think in an entrepreneurial way, even if they are not an entrepreneur. Things have really changed rapidly, and they are going to continue to change. That's why we believe so much in the general mindset of entrepreneurship."
This semester, 41 students — mostly seniors majoring in fields as diverse as communications, psychology, economics, business, and art — will bring perspectives on finances, branding, and corporate strategies as they work in teams to pitch solutions for two real companies: Formé, a shoe company for women, started by Maureen Stockton; and Till, a financial services platform for the residential real estate rental industry, started by David Sullivan. In addition to both being entrepreneurs themselves, Stockton and Sullivan each have their own connections to Wake. Stockton serves on the advisory council for the Center for Entrepreneurship and is the parent of a Wake student. Sullivan graduated from Wake Forest in 2009 with a bachelor's degree in accountancy and received his master's degree in the same field a year later.
Cohen and his students consider Stockton's and Sullivan's companies as their clients throughout the course. The students are divided into two groups with three teams focusing on Stockton and Formé; and three teams on Sullivan and Till. Teamwork is critical throughout the semester as students come up with specific and unique proposals to problems the entrepreneurs have expressed.
"The ability for us to reach out to the founder of our specific company in real time and ask questions regarding daily activity was huge," said Lukas Masterson, an Economics and Communications major with an Entrepreneurship minor and one who worked on a Formé team last semester. "This allowed us to provide a business model that was updated, as well as helped us learn how to communicate with a client/partner in the future."
Cohen gives three exams prior to the final, a two-part testament to what the student teams have developed throughout the semester. The team submits a final project, or action plan, to Cohen and the entrepreneur a week before the end of term, which gives the entrepreneur enough time to go through the written proposals before seeing the teams in action. Then, the teams give a 20-minute presentation in front of their peers, Cohen, and the entrepreneur.
It's a pitch meeting in action as members tackle different aspects of their proposals, building off each other and elaborating with depth and data for 12 minutes before undergoing a Q&A with the entrepreneur for an additional eight minutes. "I think they learn the most from the Q&A, and I think that's where the case competition is won or lost a lot of times … the entrepreneur can dig and probe," Cohen said. "They get great feedback in real time on their presentation and their paper."
Once the big day arrives, Cohen sits silently in the back of the classroom, a silent observer as the teams and the entrepreneur interact directly with each other.
Stockton and Sullivan have already heard one round of proposals from the fall cohort of the ENT 205 set. In December, students from the fall class formulated proposals that tackled issues of audience growth, differentiating one in the crowded sustainability marketplace, the reach of referral programs, and expanding one's brand through creative partnerships and alternative platforms.
Stockton was so impressed by the presentations that she offered a few team members internships. "The students blew me away! They demonstrated creative problem solving and offered unique and actionable approaches to scale Formé. Quite frankly, their ideas were stronger than a group of UCLA MBA students who were presented with the same challenge," she said. For the Spring class, she said her expectations are high because of "the caliber of thought and preparation by the prior teams" — and the fact that her son, Chase, will also be in the class.
While the students formulate their own proposals, Cohen consults with each team throughout the term, helping them delve deeper on their ideas. He never tells a student whether an idea is good or bad, preferring not to focus on binary terms of success but on developing actionable ideas early in the process. "Unfortunately, they might make a bad call and think, 'I don't have what it takes to be an entrepreneur,' and that's a bad outcome. A much better outcome is to learn how to develop a good idea," he said.
Stockton agreed, offering a piece of advice to the future entrepreneurs. "I have found that not taking a chance is a bigger personal failure than a failed business venture," she said.
The class is a microcosm of what is happening with entrepreneurship at Wake. Students from more than 25 majors are represented in the entrepreneurship program, which is designed to "teach the entrepreneurial life cycle from idea to harvest," Cohen said. The minor is modelled off a progression where ideating is the heart of ENT 200; developing validated concepts in ENT 201; and scaling ideas for a mainstream audience is tackled through actionable proposals in ENT 205. The curriculum has evolved since its conception, with more focus on entrepreneurial finance and building in more time for students to work on the live cases, Cohen said.
Using live cases also makes Cohen's course unique within higher education institutions. "In the Center for Entrepreneurship, we have a strong bias towards practical learning and application and having real experiences, not artificial experiences like simulations," he said, stating how other universities may have to wait years while they undergo vetting to publish a case to study. "In entrepreneurship, that's ancient. So with the live cases, we have students who have to present to experts, the startup team."
For Masterson, the ability to work on a live case was invaluable preparation for the future. "As time goes on, there are so many technological advances and cultural changes that affect entrepreneurial marketing/business models. Live cases allow us to work on problems that we are all familiar with and many other businesses are facing at the same time, ultimately making us more valuable to future employers," said the senior.
The Center is gaining attention for its creative approach to entrepreneurship. In 2019, the Center was named a finalist for Model Emerging Entrepreneurship Program at United States Association for Small Business and Entrepreneurship and a finalist for Excellence in Entrepreneurship Teaching and Pedagogical Innovation at the 2018 Global Consortium of Entrepreneurship conference in Chicago. Cohen and his colleague Greg Pool, Director of Wake Forest Startup Lab and Visiting Assistant Professor of Practice in entrepreneurship, published The IDEATE METHOD: How To Spot More Valuable Entrepreneurial Ideas with SAGE Publishing in January.
As Masterson prepares to graduate and start a career, he plans to carry forward the tools from his entrepreneurship courses. "You do not have to go out and start a new company or come up with a new product to be an entrepreneur. There are so many ways to be entrepreneurial, even in corporate settings. I believe wherever I end up working after college, I will be able to use the skills I learned at Wake Forest and help my coworkers think in an entrepreneurial way and enhance the company," he said.