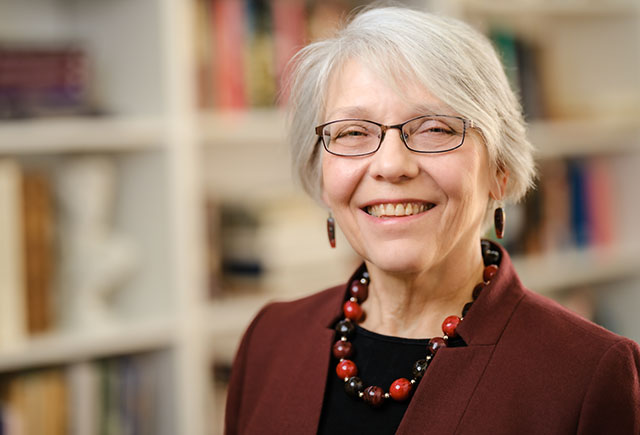 By Morna O'Neill, Associate Professor of Art, and David Lubin, Professor of Art
When Bernadine Barnes was in junior high, she wrote a paper on the movie The Agony and the Ecstasy, a lavish costume epic devoted to the tumultuous life of the Renaissance artist Michelangelo Buonarroti. Years later, she picked up that childhood fascination. At the University of Virginia, she completed a Ph.D. dissertation, later published by the University of California Press, on the Renaissance response to Michelangelo's The Last Judgment. Since then, she has become a leading Michelangelo scholar, having published two other books in the thriving field of Michelangelo Studies. Her current research departs somewhat from Michelangelo to trace the public response to religious prints in 16th and 17th century Italy. Bernadine's scholarship pays close attention to the material qualities of the work of art and the experience of the viewer in the reception of these works. As Douglas Fordham, Professor of Art History and Chair of the Art Department at the University of Virginia, as well as a Wake Forest alumnus, noted, "When I assigned Michelangelo in Print to my undergraduates, I felt a certain satisfaction and a kind of familial pride."
Close attention to the work of art, a focus of her scholarly endeavor, has also formed her contributions as a teacher. Her involvement in study away programs from Casa Artom to Wake Washington emphasizes that a kind of magic happens to students in the moment of viewing works of art. She was an intrepid instructor on the EuroTour, a WFU summer program that visits 12 European cities in five weeks, wowing students and colleagues with visits to the Louvre, the National Gallery in London, and, of course, the Sistine Chapel. According to former EuroTour organizer William Turkett, Associate Professor of Computer Science, Bernadine's tours were "a peak educational experience" for students, while another EuroTour colleague, Mary Wayne Thomas, Professor of Theater, noted that in addition to great art, Bernadine also knew where to find the best gelato.
Connecting students with works of art in person is one of the hallmarks of Bernadine's contributions to the Department of Art, where on eight occasions she has supervised student-curated exhibitions at venues such as the Hanes Gallery and the Reynolda House Museum of American Art. She has championed the department's print collection, guiding students through works by Goya, Rembrandt, Durer, and Picasso, among others. Katie Winokur ('14) recalls her experience working with Bernadine on "Fragments: Prints Inspired by the Classical Past from Wake Forest Collections" in 2013 as a true capstone experience. "I went from studying facsimiles of great works to holding them in my hands," Katie said. Lilli Cooper ('21), one of the student curators of "Constructing Nature: Labor, Leisure, and Exploration" (sadly curtailed by COVID-19) at the Hanes Gallery in 2020, says Bernadine encouraged her to think about art beyond the classroom. "I not only cultivated my research skills and visual analysis, but I learned to think more critically about viewer reception, exhibit accessibility, and art handling," shared Lilli.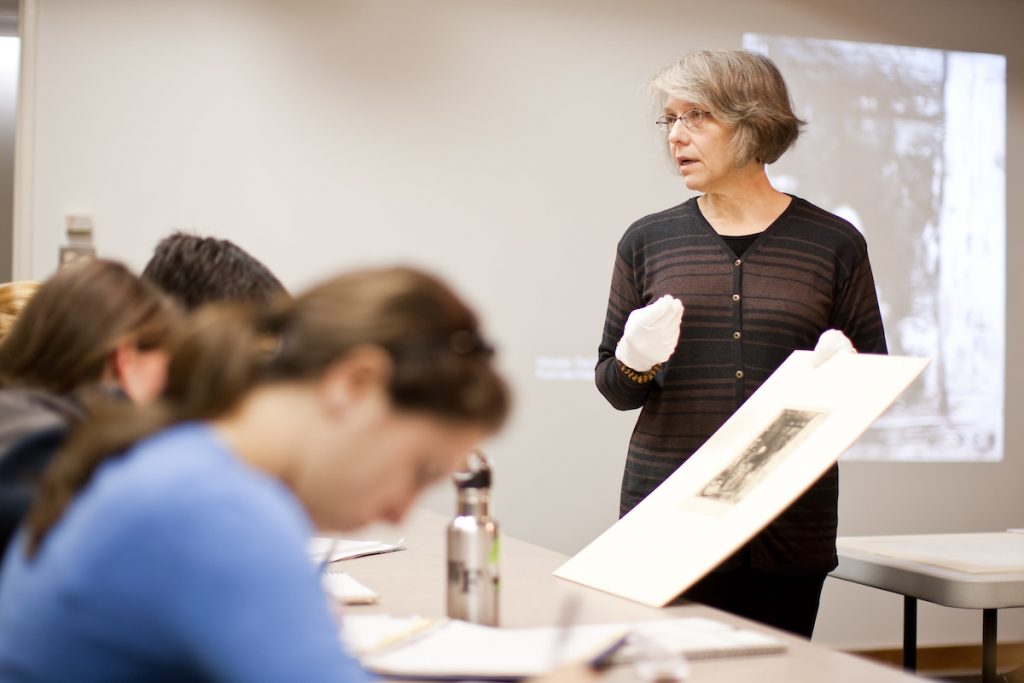 Bernadine has shared her rigorous and thoughtful approach to art with generations of students, shaping the curriculum in numerous ways, forging links with many interdisciplinary programs, and serving as core faculty in Women, Gender, and Sexuality Studies. Alexis Slater ('16), currently a Ph.D. candidate in Art History at Johns Hopkins University, remembers that Bernadine's "Women in the Renaissance" seminar exposed students "to a different mode of doing art history and, importantly, allowed us to see ourselves in the discipline."
Bernadine also spearheaded the move to online learning. She was a pioneer, serving as the first chair of the Online Education Committee and developing the popular Art 103: Survey of Western Art as an online and blended course.
Bernadine notes that she is looking forward to continuing her research and will relish the time that comes with retirement to think, read, and study, but she will miss the classroom. It seems fitting to give graduating senior and current student Julia Means ('21) the last word: "I am so lucky to have experienced her specific expertise and refreshing perspectives on early Renaissance works. She helped my interest in medieval and Renaissance art flourish into a deeper love for art history in general. Since then, she has encouraged me to explore contemporary art, American art, and my own artistic capabilities as well. I am sad that Dr. Barnes will be retiring because so many future Wake Forest students could benefit from her wisdom, but I also feel fortunate that I got to experience her enthusiastic teaching and even deeper love for art. I can definitively say, on behalf of your former students, we love you Dr. Barnes and you will be missed greatly!"