By Jennifer Rogers, Associate Professor of Counseling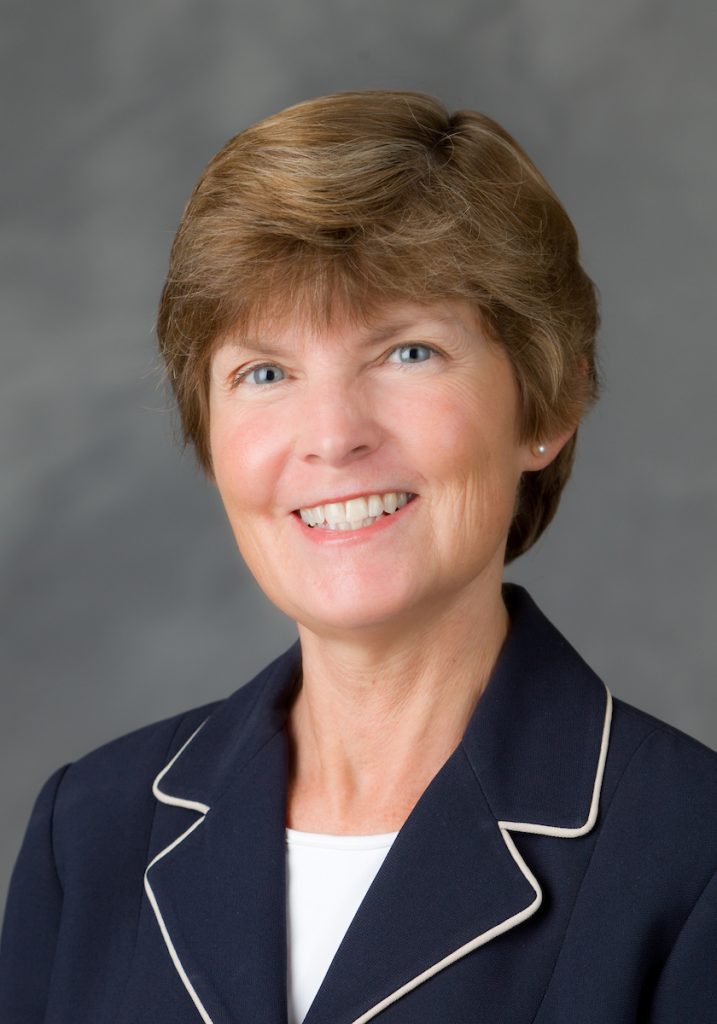 While most Wake Forest students strive to excel in their academic coursework, many graduate counselors-in-training are surprised to discover that gaining comfort with vulnerability in both themselves and others will also be a necessary part of their education. This work of the heart is essential to becoming an effective clinician, and it is best accomplished in an atmosphere of care and authenticity, where students feel safe to share and explore. Since joining the faculty of Wake Forest University in 1999, Dr. Deborah Newsome's classroom has exemplified such an environment: there, she embodies the core conditions of genuineness, positive regard, and empathy upon which the field of counseling was built, and within which change and growth are possible.
Debbie is the daughter of the late Dr. J.L. Wilson and Mrs. Alice Wilson, who were missionaries. As a result she spent most of her childhood in Thailand before returning to the United States for high school and college. Debbie admired her father's intellect and caring nature, and he served as a mentor and touchstone for her throughout her life and career. Debbie's students and colleagues now talk about her in similar terms, citing her fierce intelligence, quick wit, big heart, and inexorable drive to foster growth in others as deeply influential in their own journeys. Former student and graduate assistant — and current Chair of the Wake Forest Department of Counseling — Dr. Nathaniel Ivers' voice is one among a chorus: "I am so grateful to have studied under and worked with Dr. Debbie Newsome. She has a keen, counselor-esque ability to make people feel heard and important. She is a fantastic teacher, mentor, colleague, counselor, and friend."
Debbie is known as a disarmingly kind, honest, and funny person, and her powerful authenticity is evidenced in the common values that guide her scholarship, teaching, and relationships. Threads from her earliest research examining interpersonal variables in schools that influence children's ability to thrive — an inquiry in which she utilized advanced statistical methods not common to her field at the time — can be found throughout her approach to work and life. She is passionately committed to creating a nurturing environment in which others can achieve their potential. As such, she is deeply devoted to her family, including husband, David; children, David and Jennifer; and their spouses. She has also provided pro bono counseling to children and families, and she encourages both colleagues and students to integrate their personal identities and responsibilities as children, partners, parents, friends, and citizens.
Mary Katherine Newsome, Department of Counseling alumna and current case manager in the Wake Forest Office of the Dean of Students, spoke of how Debbie's values were evidenced in multiple contexts, saying, "I had the pleasure of being Debbie's student, supervisee, graduate assistant, eventual colleague, and friend. Throughout every role and relationship, I was struck by her grace, compassion, and vulnerability. She taught me by daily example to value the work, but to never lose sight of the people in it."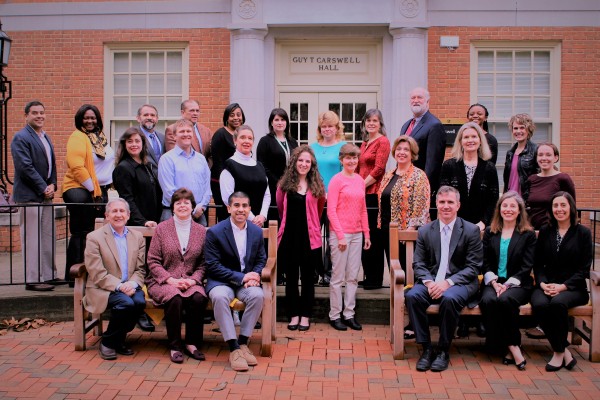 Department of Counseling colleague Dr. Michelle Ghoston also described Debbie's humanistic approach to her work: "Upon joining the Department in 2017, Debbie immediately reached out, making every effort to support me as an educator and scholar. She welcomed me with open arms and encouraged me to be myself. When I needed extra encouragement, she continued to highlight my strengths while pushing me to maintain my position and to see the constructive side of things."
Debbie is similarly openhearted and straightforward in her commitment to her undergraduate and graduate students. Her skill in the classroom is renowned. She has twice won the Wake Forest Graduate Student Association Faculty Excellence Award, in 2005 and 2014. She also won the American Counseling Association Counselor Educator Advocacy Award in 2005, and the Wake Forest Thrive Award for Outstanding Teacher in 2017, among other honors. Much of her scholarship is focused upon counselor preparation, including four editions of a widely used counseling textbook with Dr. Sam Gladding and nearly 20 book chapters.
According to Dr. Erin Binkley, former student and current Associate Professor in the Department of Counseling, "Debbie is able to make even the most daunting of subjects approachable and meaningful, and every student who learns from her feels seen, valued, and embraced." Debbie's unique talent for teaching statistics — as well as her thoughtful and person-centered approach to teaching counseling assessment, career counseling, and supervising interns — have prepared hundreds of counselors for clinical practice. Experiences in Debbie's classes also laid a foundation for doctoral study and research among dozens of counseling alumni who have pursued Ph.D.s and successful careers in academe. One such alumna, Dr. Brittany Wyche, earned her doctorate in Spring 2021. She says, "In addition to her brilliant teaching and scholarship, Debbie is without a doubt one of the kindest, warmest, and funniest professionals I've ever worked with. She made scholarly work feel both rigorous and accessible and modeled so much in her way of being. I doubt that I would have pursued a Ph.D. in Counselor Education without her example — and I know I carry her with me in every classroom I teach in, trying just to model a bit of what I learned from her."
In 2016, Debbie expanded her student advocacy reaching with her appointment as Associate Dean for Students in the Graduate School of Arts and Sciences. In this role, she has helped students navigate complex challenges during a critical time in their development. Dr. Bradley Jones, Dean of the Graduate School of Arts and Sciences, observed: "Debbie always brings a smile to those of us in the Dean's office. She is a trusted colleague and cherished friend. She was a pioneer for the Graduate School, establishing the position of Associate Dean for Students. She shepherded our students through various academic and personal hardships with reassurance and grace. She was an indefatigable advocate on their behalf."
Debbie's time at Wake Forest University as teacher, scholar, and administrator abounds with examples of her unique capacity for nurturing the gifts she sees in others. Binkley describes what so many have experienced: "Debbie Newsome's immense passion for education is evident in her teaching, but her talents shine far beyond the classroom. She empowers her students first to dream big, then to follow their dreams, and finally to develop the skills needed to achieve those dreams. She is the true embodiment of an educator, and I am so fortunate to have had her as both a professor and a colleague. She will be greatly missed, but her legacy will live on through all the people she has positively impacted." Debbie's teaching, scholarship, and personhood have inspired learning and growth among hundreds of students, who have in turn gone on to help thousands of people in their own work as counselors and educators. Her career has left an indelible mark on many individuals, the Department of Counseling, the Graduate School, and the institution. We congratulate her on her retirement, and those of us who have been lucky enough to learn from her will endeavor to abide by her tenets of excellence, kindness, and service to humanity.