By Kenneth Berenhaut, Professor of Statistics and Stats Section Chair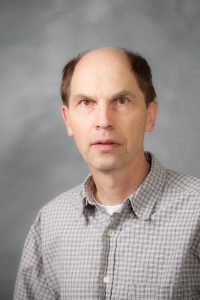 Jim Norris came to Wake Forest in 1989, as its first Ph.D. statistician. He arrived with strong connections to the Southeast, as a native of Fayetteville, North Carolina, and multiple degrees attained at N.C. State and Florida State. Since that time, owing a lot to Jim's contributions, statistics has grown tremendously within the department.
Robert Erhardt comments, "As the first statistician at Wake Forest College, Jim created many of the foundational classes which set the stage for the growth of statistics. Now we have over 10 faculty statisticians and support dozens of statistics majors and minors each year. Everyone involved in statistics on the Reynolda campus owes a debt of gratitude to Jim Norris."
I arrived at Wake Forest in 2000, as the college's second Ph.D. statistician, and was able to witness Jim's commitment to mentoring and collaborating with faculty and students through an incredible expansion of data and its importance in our lives.
Richard Carmichael — who was chair of the Department of Mathematics and Computer Science from 1988 to 2000 and the newly formed Department of Mathematics from 2000 to 2004 — points to many of Jim's significant contributions to teaching, advising, research and service and adds "… there is one area of faculty contribution in which Jim has excelled far beyond that of any other faculty member that I have known in my 53 years of teaching and research at universities across the United States. No one has been as helpful to faculty and students at this university in their disciplines as Jim, who has helped faculty and students across the university in their research using statistics," Richard says. "The department and university is going to miss Jim Norris. A person with his knowledge, expertise in the discipline, friendliness, and collegiality and who is going to work to help anyone who asks in statistical analysis is difficult to find. Thank you for your work at Wake Forest, Jim, and for being a great friend and colleague."
Jack Rejeski, Research Professor of Health and Exercise Science and a frequent collaborator with Jim contributes, "I had the pleasure of publishing with Jim on several occasions during my tenure at Wake Forest. What I admired most about Jim was the creativity he brought to data analysis and his penchant for precision. Because I enjoy our collaborations so dearly, I sat in on one of Jim's courses in advanced statistics. He was extremely adept in explaining complex concepts, welcomed challenges, and was caring in his response to questions no matter their level of sophistication. He was a true teacher-scholar, fair and loyal faculty member, valued colleague, and friend!"
I can personally attest to Jim's passionate interest in discussing new ideas in statistics and his care for the success of others. I will forever be indebted to him for being an important resource throughout my over twenty years at Wake Forest.
Anna Snavely ('07) worked closely with Jim as an undergraduate before embarking on doctoral studies at Harvard and an eventual faculty position in the Department of Biostatistics and Data Science at the Wake Forest School of Medicine. She reflects on the pivotal role Jim had on her career path, saying, "I love my job, and Dr. Norris was instrumental in helping me get where I am today. When I first started at Wake Forest, I planned to major in chemistry. However, after taking several math classes, including a statistics class with Dr. Norris, I decided to pursue a math major with a concentration in statistics instead. After taking another statistics course with Dr. Norris and working with him on my senior project, I knew that statistics was the right path for me. With his support, I applied to graduate programs in biostatistics, and was fortunate to be accepted in the Ph.D. program at Harvard. I am grateful for both my graduate and undergraduate education in statistics, as they both prepared me for a successful career. I am especially grateful that Dr. Norris sparked my interest in statistics, as it has led me down a career path that is rewarding, both professionally and personally."
We will forever be indebted to Jim for his kindness and contributions through these exciting times of growth in the department, at Wake Forest University, and beyond.