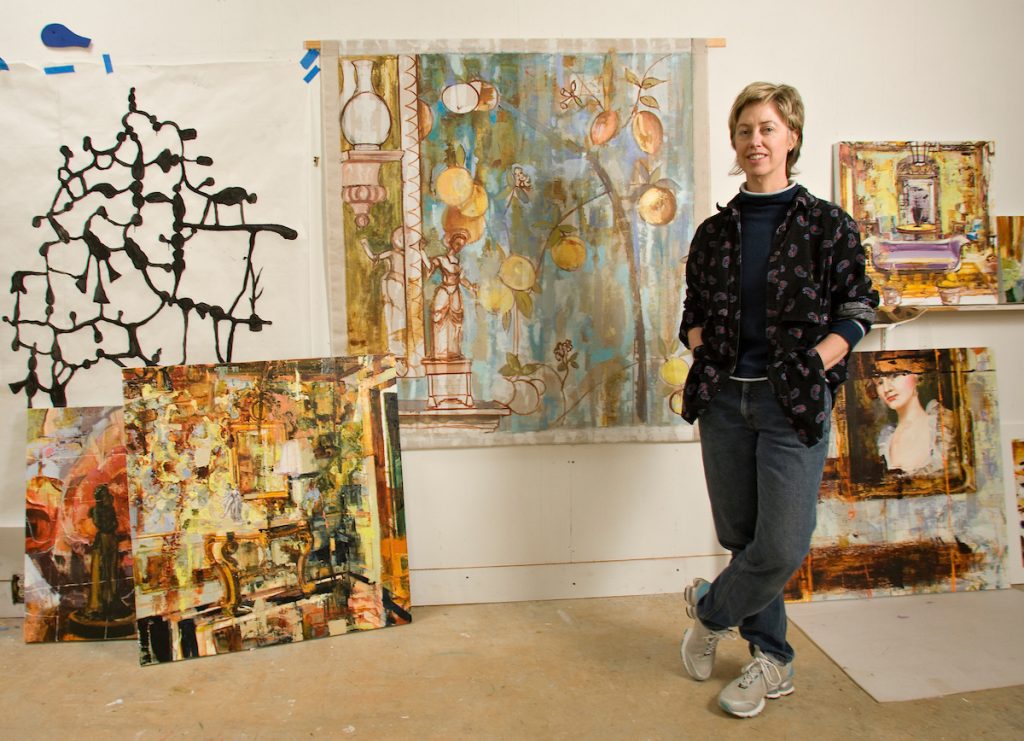 By John Pickel, Associate Professor of Art
Looking back at her career of 34 years, Page Laughlin says one thing she treasures most of all is working with her painting students: "What a privilege working with students and helping them be better people."
Her pedagogical approach has connected with students and been recognized by colleagues throughout her three decades of service at Wake Forest. She received the University's two highest teaching awards: the Reid Doyle Prize for Excellence in Teaching and the John Reinhardt Distinguished Teaching Award. In 2014, Page was named the Wake Forest Harold W. Tribble Professor in recognition of her research, teaching, and service to the department and the University.
Former student Jennifer Gentry ('97), now Associate Teaching Professor of Art at Wake Forest, shares how significant Page's approach to student learning has been on those she has taught. "It has been my great fortune to have had Page as a teacher, a mentor, a colleague, and a close collaborator. Many of us former students, from decades ago up to those who just graduated, talk about 'the voice' we have in our heads — the 'what would Page say' voice. She introduces students to connections that most of us don't or can't yet see. Page has decades of consistently amazing student work as a testament to her teaching. She honestly believes in her students; a compliment from Page is not one to take lightly. To current students, I cannot convey how precious her feedback will prove to be to them in the future."
When Page arrived at Wake Forest, there were only three studio faculty and three Art majors. She worked with her colleagues to grow the department, get regular funding for student art supplies, and build thriving majors in studio art and art history. Page also worked with her colleagues to add a tenure-tracking position in photography and digital media, which was filled in 1997. She continued to advocate for positions to expand the department. Morna O'Neill, Associate Professor of Art, said, "Honestly, I feel like I wouldn't have a career at Wake Forest without Page. It was her vision as Chair that led to the expansion of the art history program, and her realization that a spousal hire could also be good for the department. I'm so grateful that she took a chance on me."
Through Page's leadership as Chair of the Art Department from 2004 to 2011, she was instrumental in creating several co-curricular programs to enrich the students' experience. She developed a Washington D.C. trip, where interested students and faculty travel by bus to Washington to visit galleries and museums. As Chair, she worked with the Provost Office, her colleagues in the Department of Art, and the Business School to open the student art gallery START in Reynolda Village. This led to her collaboration with the director of Wake Downtown to secure exhibition space for START Downtown.
John Pickel, Associate Professor of Art, shared, "It has been my great fortune to work with Page for the last 24 years. Early in my career, she was a trusted mentor. Later, as peers, we worked closely on all aspects of building and guiding the Art Department. Her relentless optimism and ability to analyze a problem from all angles has inspired me to never give up. We do make something from nothing."
In addition to her leadership within the department, Page has participated in multiple governance roles across the University, including serving in the Senate twice; Chair of the Chairs; College Board of Visitors; the Curriculum Review Committee for the College; and the Search Committee for Dean of the College. She has done this administrative work alongside her research and creative work. She received several College fellowships and support from arts organizations, including grants such as New Forms Regional Artist Project grant, the North Carolina Artist Project grant, and the Percent for Art Program. Her artwork has been selected for more than 43 competitive exhibitions, including 11 museum exhibitions, 10 solo exhibitions or installations, and 6 published color exhibition catalogues.
In countless ways, Page has influenced the arts — through teaching, scholarship, and experience — at Wake Forest and beyond. Jennifer Gentry summarizes Page's influence, when she said: "She commits 100 percent and guides students into whatever personal artistic journey they need to take through their work. The 'journey' within one single class is entirely fascinating, hilarious, life-altering, sometimes teary, takes you to the brink of what you think you are capable of, and so worth persisting through the struggle. Then, just at the right moment, often before you think you are ready, she lets go. I've seen it over and over. (Perhaps it is happening to me again right now.) She knows just when to let go; because as much as she is teaching how to paint, make art, look, see, and think critically, she is guiding her students to self-realization. Her legacy is huge. Those of us know how lucky we are to have been her student."