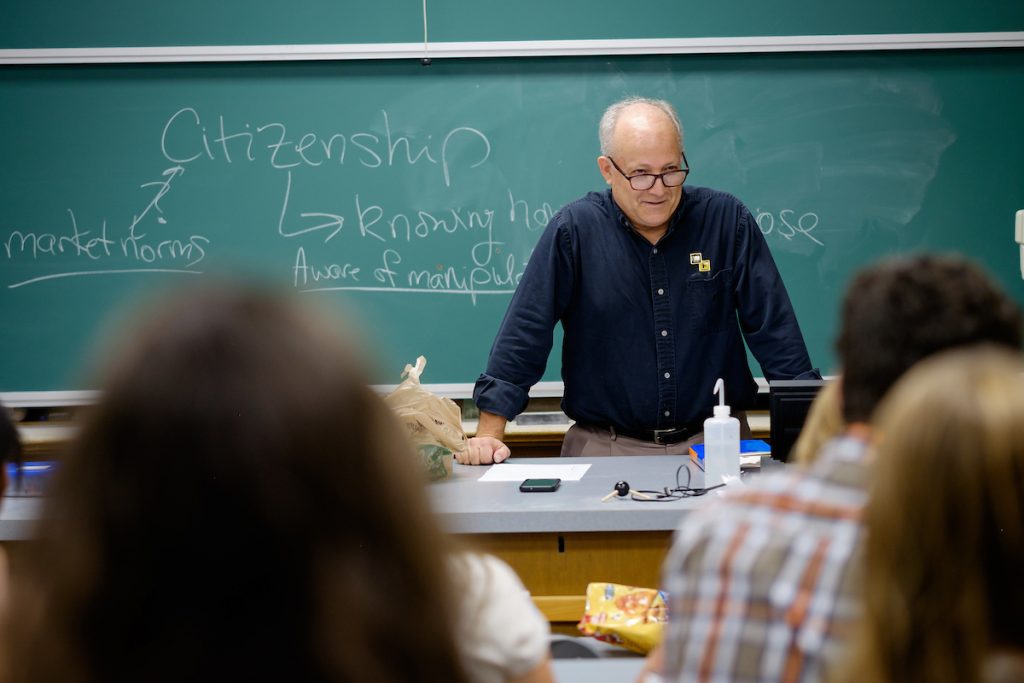 By Bruce King, Chair and Thurman D. Kitchin Professor of Chemistry, Christa Colyer, Professor of Chemistry, and Willie Hinze, Professor of Chemistry
Al Rives's career and life are intimately intertwined with Wake Forest University. His varied relationships with and commitment to Wake Forest have both defined and enriched his teaching and service.
Al graduated from Wake Forest with a B.S. in Chemistry with honors in 1976. He earned a Ph.D. in Physical Chemistry with a minor in Physics from the University of Wisconsin-Madison in 1981. He initially found a position at Union Carbide in Charleston, W.V., doing catalysis research and later moved into electrochemistry as he managed the Electrosynthesis Research Triangle facility in Durham. These stops prefaced his return to Wake Forest University in 2002. He presently has the rank of full Teaching Professor and is an integral member of the Chemistry team.
Being both a WFU alumnus and parent (Betsy '08 and Sally '11) allowed Al to share unique perspectives with students and faculty alike. In his humble style, Al links current students and faculty to the campus, Salem Hall, the Chemistry curriculum, and departmental history through the multi-faceted lenses of alumnus, parent, and faculty member. He reminds us that our department stands on the efforts of those who came before. Al revealed to many students, including those who arrived with the goal of a career in medicine (a wonderful pursuit), that many exciting careers exist for students with Chemistry degrees.
Al has probably taught more different Chemistry courses than anyone in recent memory. He has taught both semesters of general Chemistry, upper-level Analytical and Physical Chemistry, as well as the non-majors' Everyday Chemistry course. His versatility helped the department many times during scheduling. Students acknowledged his passion and teaching abilities with strong evaluations and numerous positive comments to department chairs.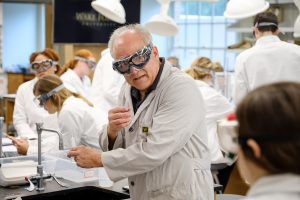 Al bravely coordinated CHM 111 Lab for many years, which entailed organizing and executing roughly 10 sections of 45 students per section, each and every fall semester. This task, generally done in addition to his regular teaching duties, means Al was directly involved in the chemical education of thousands of students, and this service was greatly appreciated by his colleagues. He also coordinated CHM334 Lab for many years; and since this course is a requirement for all Chemistry majors, it put Al in the position of having taught nearly every Chemistry major to graduate from Wake for more than a decade.
Beyond his classroom work, Al brought a personal and Wake Forest-centric approach to his work that students and faculty will remember and appreciate. He organized popular Trivia Nights at Foothills Brewery for graduating seniors. And when he taught CHM 280 in England, he not only used his time to introduce students to historically important sites of chemical discovery, but he also introduced them to trivia nights at a London pub. Finally, Al designed and created the much-coveted periodic table WF lapel pin that students are presented with upon graduation. The awarding of this iconic pin has naturally developed into an important department tradition that distinguishes our graduates.
Being an alumnus, Al naturally embraced an outreach role to other Department of Chemistry department alumni. He organized departmental Homecoming events that featured his famous periodic table of cookies. He managed the department's contribution to the Homecoming Demo Show which included all sorts of "relatively" safe and visually exciting demonstrations that were performed over the years with the assistance of campus celebrities from the Athletics department, the highest levels of University administration, and, of course, the Demon Deacon himself (all wearing safety glasses).
Al played an instrumental role in the founding of the Friends of Chemistry (FoC) alumni group that serves both our alumni and students by providing a means to connect students with alumni for mentoring and career discussions. It also keeps the connections strong among our Chemistry alumni, who value the important role of the department and University in their lives past and present.
Jim Harton (B.S. 5'74 and College Board of Visitors member) summarizes Al's contributions to the FoC well, when he said, "Dr. Al Rives is amazing! In the past 10 years I have observed his passion for engaging, teaching, and guiding Chemistry students in the laboratory, classroom, and more recently taking the virtual challenge. But Al also realizes that the career experiences of Wake Forest Chemistry alumni can be insightful, informative, and provide guidance for Chemistry students especially as they begin to consider their futures. For more than a decade, Al has developed a large network of Friends of Chemistry alumni willing to connect with students as mentors or to engage them in discussions about the many diverse career opportunities that students might pursue once they complete their degree. These alumni-student discussions can be one-on-one or in group settings usually in the many career events that Al has established over the years. These events highlight possible experiences in academia, medicine, dentistry, legal (patents), and the pharmaceutical and chemical industries. In this way, Al not only teaches Chemistry as a subject, but he also ensures that students understand the value of their Wake Forest Chemistry degree as they pursue their future life's work. 'Amazing Al' will be missed by his students, the department that he has enhanced, and by the many Chemistry alumni that he has engaged over the years."
Al Rives' passion and commitment to Wake Forest University and the Department of Chemistry have produced many wonderful outcomes both in the classroom and in terms of student engagement. The department will be wise to remember his contributions and continue to build on them and look forward to continued interactions with Al in the future.