By Jennifer Gentry, Teaching Professor of Art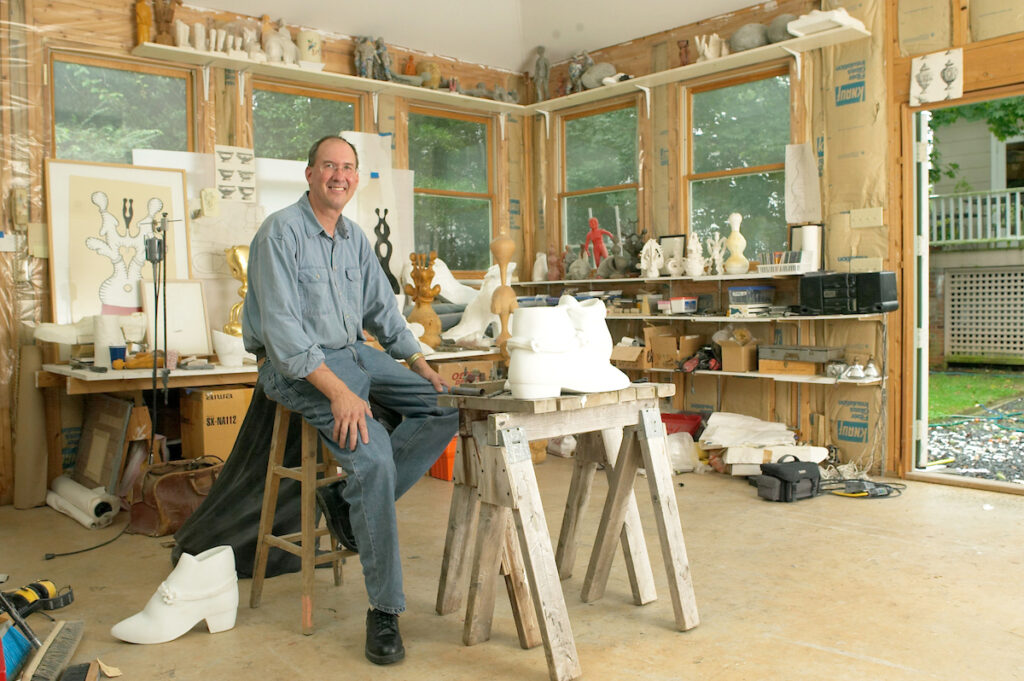 David Finn, Professor of Art, has taught sculpture at Wake Forest University since 1988. He created and championed Wake Forest's public art program, where students experience making artwork with and for campus or community organizations. His renowned teaching and courses, such as Public Art, Bodies and Objects, Fabrication, and Installation Art, have been formative experiences that will continue serving his students throughout their lifetimes.
"David was instrumental in opening my eyes to the way that art can engage public life. He always challenged, encouraged, and supported me to step outside of an expectation or a self-imposed limit and produce something meaningful to a community beyond myself. I'll be forever grateful to David for showing me the vast possibilities of what an artist could do and how they could make an impact on the world," said Steve Gurysh ('06).
David's ongoing effort to create public art as an instrument for change is exemplified throughout his career. David has been chair of the Winston-Salem Forsyth County Public Art Commission since 2016. In "Big Tent/Transforming Race" (2011-15), David worked with high school and college students to develop multimedia projects that created a space to discuss race and diversity in collaboration with the City of Winston-Salem Human Relations Department. "Shadow Citizens" is an ongoing project started in 2016, where David interviewed and made head casts of marginalized individuals and placed them on historical sites where justice was at stake. Through his varied approaches to the field, his work responds to the specific needs of people and location.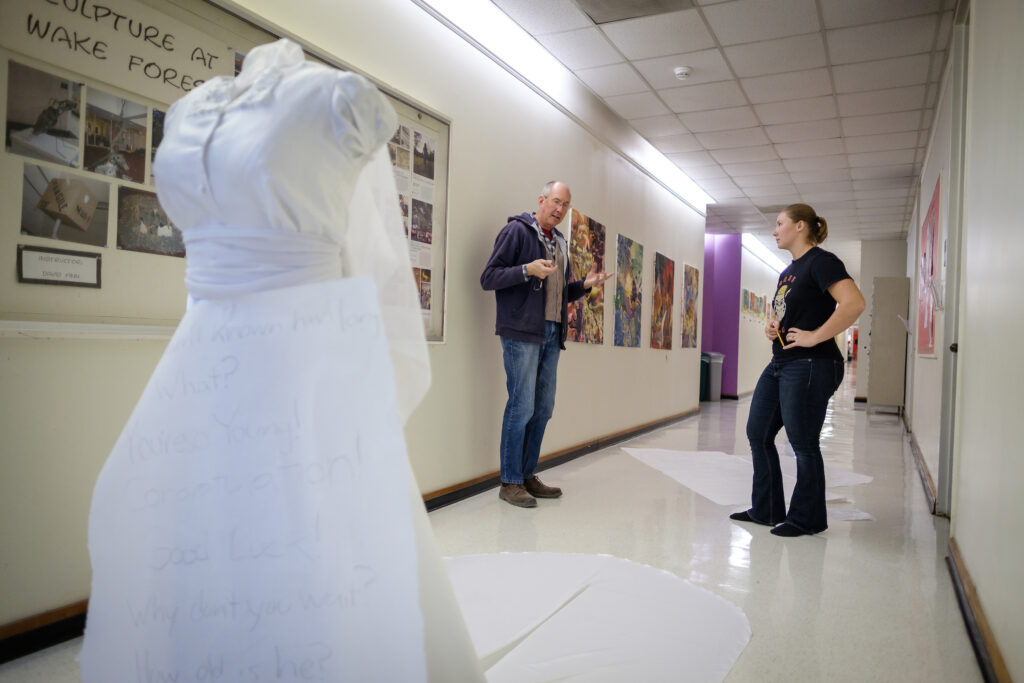 David has exhibited sculpture in more than 15 solo exhibitions, including shows in New York, London, Milan, Hong Kong, and Lund, Sweden. His installations in art spaces of the collaged Masked Figures and Newspaper Children were part of the 1980s art scene in NYC. His work was shown in Aperto at the 1984 Venice Biennale. His work is in private and public collections, including Fondation Cartier, Paris, France; Giordano Collection, Oleggio, Italy; Weatherspoon Gallery of Art, Greensboro, N.C.; Leeds City Art Gallery, Leeds, England; and Mint Museum of Art, Charlotte, N.C. His work has been featured in publications such as Art in America, New York Times, Artforum, and the Village Voice. He is a recipient of fellowship grants from the Bemis Foundation, New York Foundation for the Arts, North Carolina Arts Council, and the National Endowment for the Arts. He has created a number of public art projects in North Carolina, such as the "Sculptural Climbing Wall," "Diggs Tower," and "Lateral Thinking" a handicap-accessible double chess table sculpture in Winston-Salem. David was selected for a 2020 Art and Soul in Truth and Consequences Residency in New Mexico and a 2022 Sculpture Space Residency in Utica, N.Y.
Among David's decades of service and leadership across the university, he served as Chair of the Department of Art from 2020-2022. He has led the Student Art Acquisition experience. David taught the Venice Biennale Course, an innovative Art Department program started in 2018 by emeritus professor Page Laughlin, where students study on campus and in Venice during the Biennale and develop a unique guide. Students and colleagues recall David's empathy, insight, and approach to understanding the complexity of problems which leads to being better equipped to work toward solutions.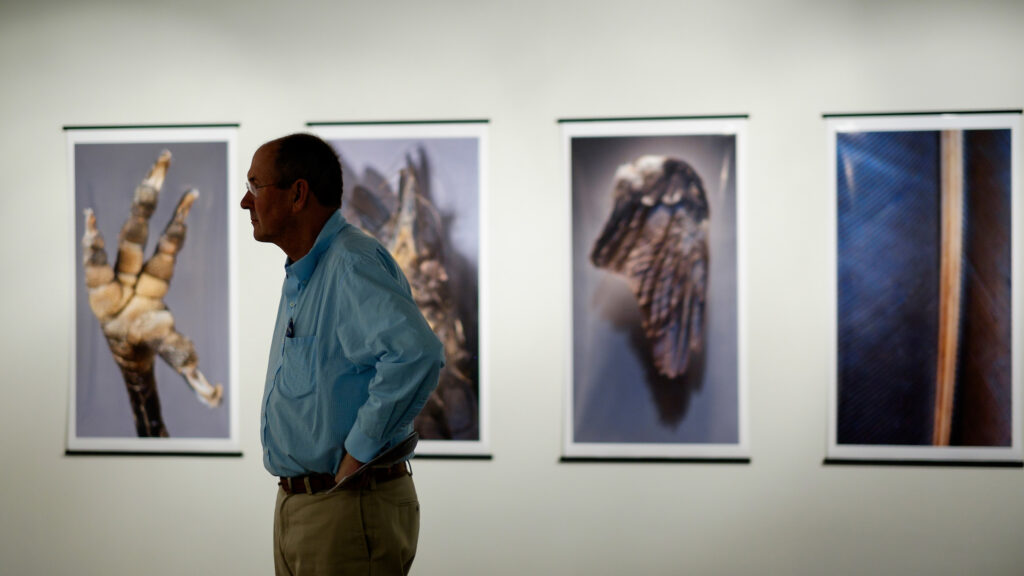 A lifelong coach, mentor, and friend, David remains connected with his students' lives and celebrates their work and achievements. "My first art course was Introduction to Sculpture with David Finn. I was a freshman looking to check the box for an art divisional, but instead, I found not just a talented and accomplished professor but a coach and mentor. At the end of the semester, Finn encouraged me to submit a sculpture to the annual Student Art Exhibition at the Hanes Gallery, and it was purchased by the university. That encouragement was transformative to me, and I changed my plans and became an art major with a concentration in sculpture. I can trace the work I do now as a practicing artist, professor, and arts administrator right back to sitting in the Sculpture Studio with David Finn. I can't overstate what an influence his teaching and support have had on my life," said Katie Wolf ('13)
In David's 1995 public art course, I learned one of the most transformational lessons I frequently invoke for myself and my students. As I sat for weeks in indecision, waiting for some ideal project to present itself, David began class with something like, "Jennifer, there is no perfect; that doesn't matter; just pick one and do it." The encouragement to resist perfection has a wonderful way of getting you unstuck and moving forward.
"David helped me become less afraid to fail. He seemed delighted to observe not only what we accomplished, but what we dared to try. His encouragement opened me up to the virtuous loop of trying, failing, trying again, and getting closer and closer to realizing what I was imagining. This also introduced me to the joy of the process. Before I was David's student, I was impulsive and driven to reach the end as quickly as possible, but his spirit for craft was infectious, and I found myself drawn to his assignments as invitations to find interesting ways to the end. I discovered the love of doing," said Zach Klein ('04).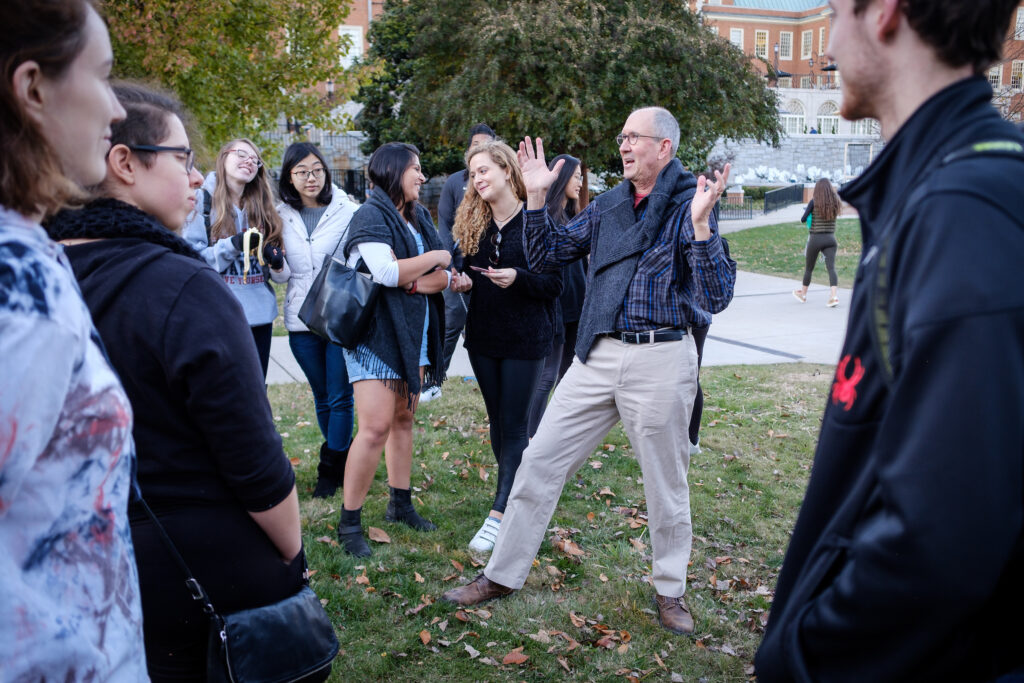 Whether carving statuary marble, sewing, casting, welding, design thinking, historical research, or community engagement, among others, David humbly models that you can study, learn, and hone skills for whatever is necessary to communicate concepts and realize your ideas. David states, "In all my teaching, I want to demonstrate the power of visual art to synthesize and communicate knowledge and feeling on the deepest level – and then inspire others to do the same." David has tirelessly, enthusiastically, and playfully coached students through the hard work, persistence, leadership, and tolerance for ambiguity that artmaking requires. His dedication to helping his students succeed has enabled them to lead more creative and fulfilling lives.