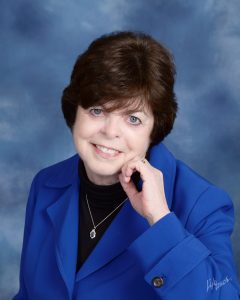 This is part of a series highlighting retiring faculty in the Undergraduate College at Wake Forest.
By Alex Abrams
On Donna Henderson's first day as a high school counselor, a student walked into her office and said her best friend was preparing to commit suicide by swallowing a handful of pills.
Henderson did not know how to respond. She was around 23 years old at the time and only one year removed from college. Up until then she had taught Shakespeare as an English teacher in Virginia.
Henderson was not prepared to deal with a suicide threat, so she called the school psychologist and had other counselors help the student's friend get through the ordeal.
"But it was like trial by fire," Henderson said. "It's like this is serious stuff. You don't need to be doing it if you don't know what you're doing."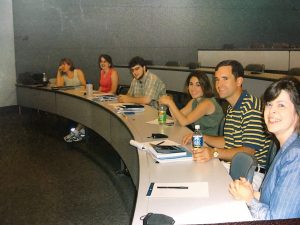 Henderson's introduction to Counseling happened unexpectedly like many other moments in her distinguished career. After raising a family, she decided at 40 to go back to school and pursue a Ph.D. It felt like unfinished business for her.
When Henderson arrived at Wake Forest University in 1996 as a new Assistant Professor of Counseling, she figured she would stay until the universe opened another door for her. At the time, she was the only faculty member in her department who specialized in child counseling.
Twenty-two years later, Henderson, 70, will retire from WFU on December 31, 2018.
Donna Henderson's Impact on a Colleague
Read a personal essay about Donna Henderson written by Nathaniel Ivers, Department Chair and Associate Professor of Counseling.
Henderson's legacy is evident in the Department of Counseling, where three of her former students are now faculty members – Department Chair and Associate Professor Nathaniel Ivers as well as Assistant Professors Erin Binkley and Jennifer Rogers.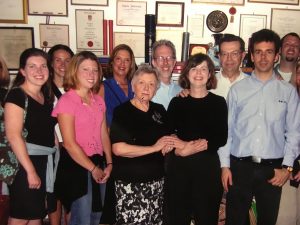 Henderson's teaching style amazed Ivers as he took her Counseling Children course while pursuing a Master's degree from WFU in 2004-05. As a doctoral student, he sought her advice, sometimes when the two crossed paths while shopping at Costco.
A few years later, Ivers was working as a visiting lecturer at WFU when he performed poorly in a job interview for a tenure-track position at another university.
"I told Donna what had happened, and she shared with me that I was selling myself short by not explaining what I had to offer," Ivers said. "She then proceeded to write down a list of qualities that made me a great colleague and a valuable counselor educator.
"Nine years later, I still have the list in my wallet. In short, I owe a lot to Donna. I would not be the person or the professional that I am today without her instruction, mentorship, leadership, and friendship."
Growing up, Henderson had no interest in being a counselor educator, let alone someday serving as Chair of the Department of Counseling.
She was early in her teaching career when her high school principal called her into his office. One of the school's counselors was retiring, and the principal wanted Henderson to train to be her replacement.
Henderson welcomed the opportunity to get out of the classroom and not have to grade more English papers. Her principal saw something more, though. Henderson had an ability to connect with kids.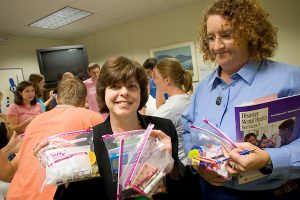 "I think their capacity to change is so different from adults that there's a freshness there," said Henderson, who has co-authored several books on child counseling. "There's an openness to possibilities that becomes jaded as you age, and they're so vulnerable."
Along the way, Henderson has worked to teach counseling skills to people in underdeveloped areas around the world who do not have access to therapists.
Henderson has traveled to Malaysia, Mexico, and Bhutan as part of the Mental Health Facilitator program, in which counselor educators teach people to identify and treat mental health issues in their own villages.
"She is a gifted teacher, a beautiful writer, and a truly gracious hostess," said Rogers, who was taught by Henderson while earning her Master's degree in Counseling from WFU in 2008.
"My favorite times with Donna have been long talks about big ideas, swapping stories in the hallway about my children and her beloved granddaughter, and cracking up over nothing when delirium set in after working too many hours on a big project together, which we have done too many times to count."­­­­­