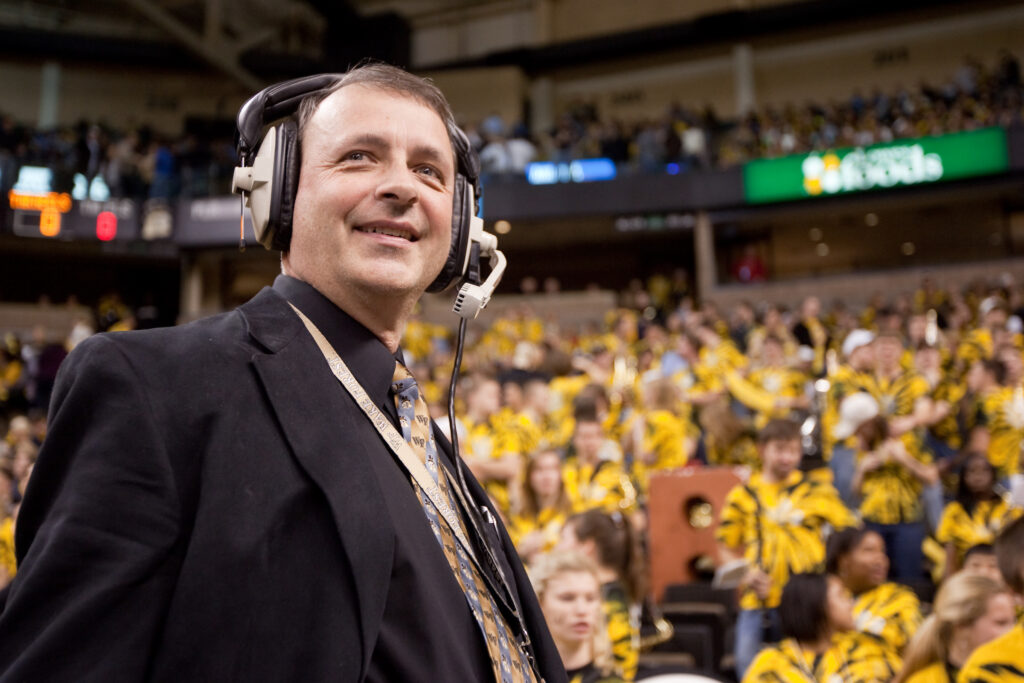 By Jacqui Carrasco, Chair and Professor of Music
Dr. Kevin Bowen never imagined a long tenure at Wake Forest University when he arrived in 1994 to temporarily direct the marching and pep bands. He was convinced that the previous director, a Wake Forest grad, would soon be back, and his own doctoral work at Florida State University led him to assume that his career would focus on mentoring future high school band directors.
But that previous director assumed a new position elsewhere, and Kevin discovered he loved working with Wake Forest band students, whose academic and career interests varied widely and who devoted themselves to long game days for the sheer joy of making music together. As any WFU sports fans will also realize, Kevin's arrival as Director of Bands at Wake Forest coincided with some special basketball history. In his first and second years, he was traveling with the pep band to the ACC championships and March Madness games and leading the WFU fight song to support players like future superstars Tim Duncan and Randolph Childress.
Football glory didn't appear quite as quickly, but one of Kevin's most treasured memories remains traveling with the marching band, a.k.a. "The Spirit of the Old Gold and Black," to Florida for the WFU Football team's first appearance at the Orange Bowl in 2007. He still recalls the exhilaration of leading the Deacon Drumbeat in a stadium of 40,000 raucous college football fans.
Beyond his important work with the athletic bands, Kevin was also key in developing other musical opportunities for wind, brass, and percussion students at Wake Forest. Recognizing that not all WFU's talented band students wanted to march each fall, he created the Wind Ensemble as another musical outlet, and he is proud to have participated in a consortium of colleges commissioning new works for wind ensembles. He has additionally taught trumpet lessons, directed the WFU Jazz Ensemble, and coached chamber ensembles, including a memorable group that performed Paul Hindemith's Wind Symphony in Bb, one of the most challenging pieces in the wind and brass repertoire.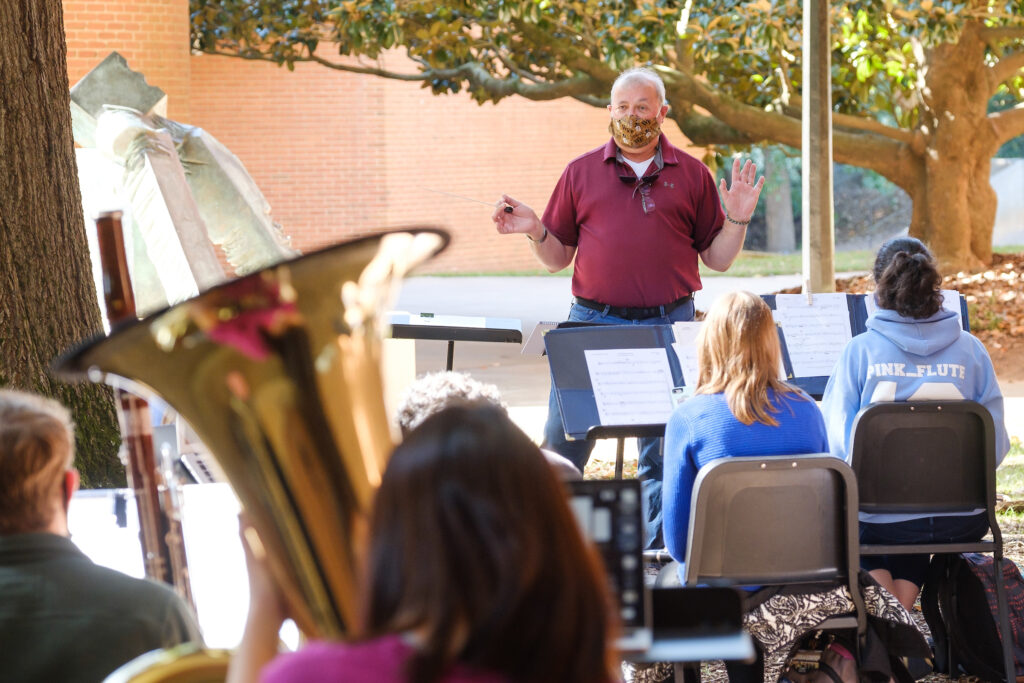 For the last 20 years, Kevin has touched the lives of all Wake Forest students and their families with his trumpet playing: he has coordinated and performed in the brass ensemble that accompanies Commencement festivities in Hearn Plaza. He'll forgo the organizing responsibilities after retirement, but he looks forward to joining the brass ensemble this May and in future years to celebrate our WFU graduates.
His retirement goals include more time with his extended family and friends, but after a career of weekend and evening game travel, he will still be on the move, albeit in Aloha colors instead of Old Gold and Black. For the last few years, he has gigged with The Catalinas, an energetic beach music band with members from throughout North Carolina, and their summer season heats up soon.But before then, he conducted his students' spring concerts, including the student brass ensemble on the WFU Student Chamber Music Concert, the WFU Jazz Ensemble, and the WFU Wind Ensemble. For the Sunday afternoon performance with the Wind Ensemble, he conducted the WFU premiere of William Pitts' "Hymn for a Breakthrough," a commissioned work connected to the themes of Pro Humanitate and our Alma Mater "Dear Old Wake Forest." He also planned the end of the concert just as he finished his very first WFU Wind Ensemble concert years ago: with Timothy Mahr's "Fantasia in G," which was inspired by the opening text in Beethoven's "Ode to Joy" chorale: "Freude, Schoener Goetterfunken" ("Joy, Bright Spark of Divinity"). What an apt finale to a rich career of mentoring Wake Forest students and bringing stellar music to the extended WFU community for almost 30 years – we will miss him tremendously!