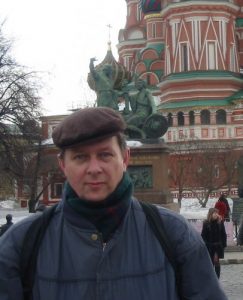 This is part of an ongoing series highlighting retiring faculty in the Undergraduate College at Wake Forest.
By Alex Abrams
Long before Kurt Shaw was studying Hungarian and teaching in Vienna, he played Tony Bennett and Olivia Newton-John songs as a disc jockey for an adult contemporary radio station.
He also spun records at rock, country music, and oldies radio stations in Rhode Island, Missouri, and his native Maine.
As much as Shaw loves learning different languages – he estimates he has studied 12-13 languages over his lifetime – he had a tendency when he was younger of dropping out of college after only a short stint on campus.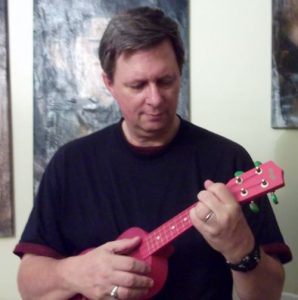 Needing to support himself, Shaw worked off and on for 11 years as a DJ, starting in 1971 at a radio station that his father worked for as an announcer.
"I had withdrawn from my first semester in college and desperately needed a job, and it just so happened they had someone at my dad's radio station who wasn't very good," said Shaw, who'll turn 65 in August. "And so they let me audition and then I got work."
After Shaw got married, his wife encouraged him to quit his radio job, return to college, and finally pursue his passion for teaching Russian literature. He followed her advice, and he has endeared himself as a music-playing, wisecracking faculty member over the past 31 years at Wake Forest University.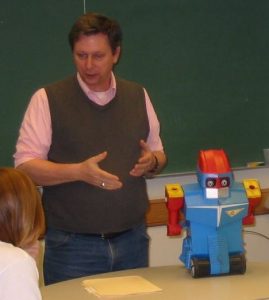 Shaw lists Bugs Bunny and Russian writer Fyodor Dostoevsky as his heroes. The Associate Professor is an avid reader of the Sunday comics. He also has been known to paste headshots of his colleagues in the Department of German and Russian on the bodies of Star Trek characters.
However, behind Shaw's playful personality is a dedicated linguist and grammarian who served as the department's chair from 2000-08. He'll retire after this semester.
Shaw became interested in learning Russian after reading Ian Fleming's James Bond spy thrillers as a teenager. In the novels, Bond confronts the Russian counterintelligence agency known as SMERSH (its full name in Russian means "Death to Spies").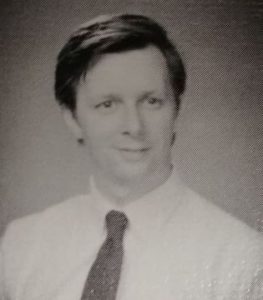 Growing up in the Sixties, Shaw wanted to be a spy like James Bond. He acknowledges he likely would have blown his cover on his first day as a spy and gotten shot – even with his ability to pick up different languages.
Shaw can speak Russian, German, and French as well as read Italian, Polish, and Bulgarian. He has also taught a course on twentieth-century Japanese literature at WFU's study abroad program in Japan.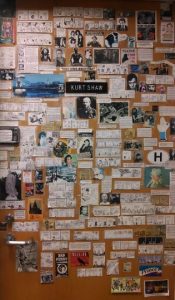 "Even with his love of pop culture and campy TV shows, I think Kurt is the truest intellect I've ever met," said Alyssa Howards, Chair of the Department of German and Russian. "He loves, loves, loves reading, and whereas some people in academia pursue knowledge primarily to advance their career, Kurt reads and discusses literature for the sheer joy of it all."
Shaw's first day teaching at WFU in 1987 wasn't an enjoyable experience, though.
When he flew to North Carolina to have a tryout teaching a Russian class, longtime WFU Russian Professor Billy Hamilton picked up Shaw at the airport. Hamilton took him for a barbecue lunch at Pig Pickin's before heading to campus.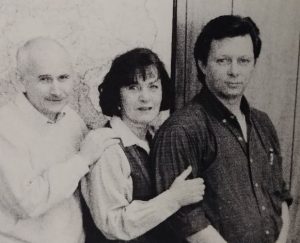 "I told him since he was from, like, Kansas and Maine and Missouri, to order the chopped plate. He obeyed," Hamilton said. "'Put some hot sauce on it, Kurt,' I said. He obeyed. Kurt tells me that that afternoon was the most miserable one of his life. He had to teach with his entire stomach on fire."
Since then, Shaw and Hamilton have formed a close bond and even a band for a few years in something they referred to as Late Night Breakfasts.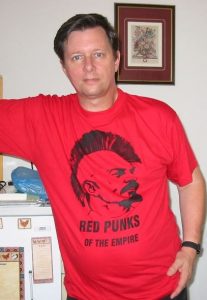 Shaw said he plans to remain in Winston-Salem after he retires and pursue his long list of interests, which includes studying the history of espionage and possibly writing a comic novel about his family, the radio industry, or his time at WFU.
He has no intentions of crying over his retirement, though. He'd rather crack jokes and not be so serious, evident by the Bugs Bunny cartoons that remain on his office door.
"The idea of being somebody way up in an ivory tower who basically work is his life, I'm not that way," Shaw said. "I enjoy my work. I've made a good living and it's doing something that I really love, but … you got to live a little."