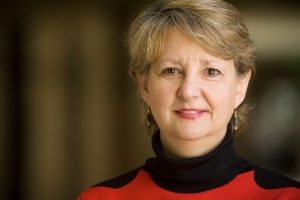 This is part of a series highlighting retiring faculty in the Undergraduate College at Wake Forest.
By Alex Abrams
Mary Lynn Redmond sat in a classroom, staring at the TV and enduring a painful introduction to the French language as a fourth-grader.
At the time, not many North Carolina elementary schools taught foreign languages. However, the principal at Redmond's school made her students watch 30 minutes of French-speaking programs that aired on public UNC-TV several times a week.
The principal then taught French vocabulary on the days when Redmond's class didn't watch the French TV shows. As a kid, Redmond would have preferred to spend her time doing almost anything else.
"I didn't like it," Redmond said. "I was really sort of bored with it and so it's kind of funny now that I became interested in it."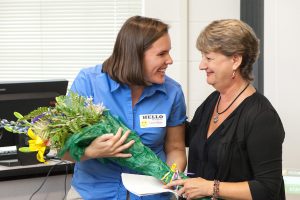 Redmond has become a strong advocate of early foreign language education. She has spent the past 29 years at Wake Forest University training future teachers and developing the curriculum for the Foreign Language Education program in the Department of Education.
Redmond has also served as President of both the American Council on the Teaching of Foreign Languages (ACTFL) as well as the Foreign Language Association of North Carolina (FLANC).
"Not only is she well-regarded in North Carolina, that's just the tip of the iceberg," said Adam Friedman, Professor and Chair of WFU's Department of Education. "She's well-regarded across the world. That's no hyperbole."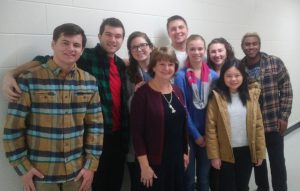 Hired at WFU in 1989, Redmond arrived on campus as a young former high school French teacher trying to establish herself. She relied on colleagues from different departments to help her network as she implemented a new curriculum in the Department of Education.
Redmond will retire at the end of this semester as a Professor of Education, though she intends to continue her work as a nationally recognized figure in foreign language education.
Teacher to Teacher (1999), which Redmond co-edited, came as a result of a four-day institute held at WFU in 1997 while she was serving as President of the National Network for Early Language Learning.
Redmond doesn't come from a family of teachers, but as a kid growing up in Elon, her parents invited professors, presidents, and theologians from Elon University to their Sunday family dinners.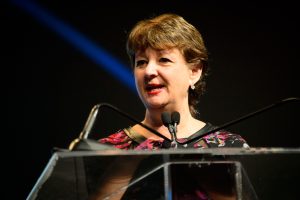 Redmond knew she wanted to be a teacher, just not necessarily in French. Her interest in the language changed, however, after she started exchanging letters with a pen pal in Paris while in the ninth grade.
"I think that really helped me to understand the culture in ways. It just really intrigued me, I think, as a young girl," Redmond, 62, said. "I just wanted to get better at [French]."
A French professor at the University of North Carolina Greensboro then encouraged Redmond as an undergraduate student in the late 1970s to combine her study of French with Elementary Education.
The professor felt early foreign language education would be the future, even though only a few schools nationwide were doing it at the time. Redmond followed the professor's advice, eventually teaching both French and Education courses at WFU.
"One of the things that makes Dr. Redmond unique is how she keeps up with students after their graduation from WFU," said Leslie Baldwin, one of Redmond's former students who now serves as the World Languages Program Manager for Winston-Salem/Forsyth County Schools.
"She genuinely cares about all of her students and wants to help them succeed. She keeps in touch with them, continuing to counsel and give advice years into their careers."
Redmond has received several prominent teaching awards over the years, including ACTFL's Wilga Rivers Award For Leadership In Foreign Language Education (Postsecondary) in 2017. She was named FLANC's Teacher of the Year for Higher Education in 2014.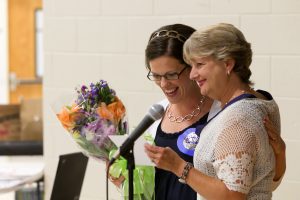 Redmond was Chair of the Department of Education in 2007 when Friedman came to campus for his job interview. She met him for breakfast at Graylyn, and he still remembers something she told him then about WFU's unique approach to faculty members being both teachers and scholars.
She said, "We do the teaching of Davidson and the research of Duke."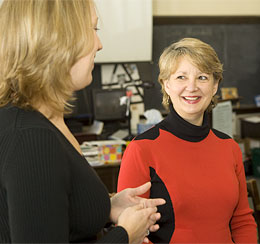 Redmond recently returned from a trip to France, and she already has plans to go back overseas. She also intends to spend some of her retirement exploring the United States with her husband.
However, as a strong supporter of teachers, Redmond doesn't plan to entirely leave education. She's already busy working on a recruitment and retention project known as Project C.A.F.E. (Calling All Future Educators).
"I'll always be involved in advocating for teacher education and particularly in North Carolina to do what I can to recruit teachers," Redmond said.