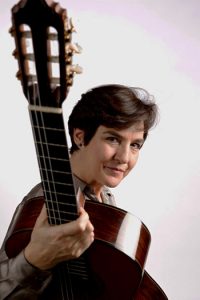 This is part of a series highlighting retiring faculty in the Undergraduate College at Wake Forest.
By Alex Abrams
As an artist, Patricia Dixon works with watercolors, pastels, and random images that grab her attention and move her to paint.
When she feels homesick, Dixon often uses a photograph from her native Chile as inspiration for a painting. Other times she comes across a tree or an abstract picture in her mind and starts sketching it.
Early on, it seemed the visual arts would be her method of telling stories and sharing her Latin American culture with a larger audience.
A self-described globalist, environmentalist, and political junkie, Dixon had completed 54 hours of coursework in Studio Art at the University of North Carolina Wilmington when her first love returned to her life.
"The guitar just kept calling me," she said. "I had to play it."
Dixon has plenty she wants to say, and as a Senior Lecturer in Music at Wake Forest University, she has managed to express herself through the guitar.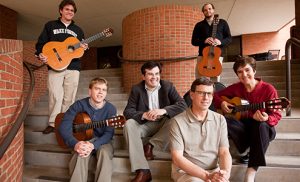 Dixon was initially hired as a guitar instructor and an adjunct professor in 1980. However, her classes have grown well beyond the classical guitar over the past 38 years.
Dixon has introduced her students to protest music borne out of the Apartheid in South Africa and Augusto Pinochet's dictatorship in Chile, where her family still lives. She has also taught her classes about the American Dream through music.
Dixon will soon trade her music studio inside the Scales Fine Arts Center for her art studio at home. She's retiring at the end of the semester.
Dixon's office is decorated with reminders of her love for both music and art. A painting she did of a landscape hangs on the wall behind her desk, and framed posters from concerts she helped arrange cover another wall.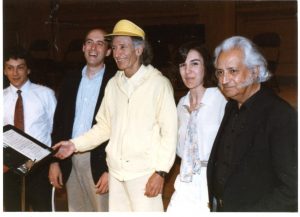 Dixon directed the Second American Guitar Congress, which WFU hosted in 1989. She estimates she has brought 150 musicians to campus over the past four decades, including Chilean guitarist Romilio Orellana's performance on April 25.
Along the way, Dixon has performed as a soloist and in orchestras in North America, South America, and Spain.
"Pat Dixon has always brought great passion to her teaching and to her performing," said Peter Kairoff, Professor and Chair of the Department of Music. "Her guitar performances on campus, in the region, and internationally were always elegant, expressive, and communicative.
"Her teaching also displayed the deep passion she has for the guitar and for music in general."
Growing up in Santiago, Chile, Dixon started taking guitar lessons at 6 years old despite her aunt being a well-known pianist. As a teenager, she formed a band called The Jets with her two sisters and a few neighborhood friends.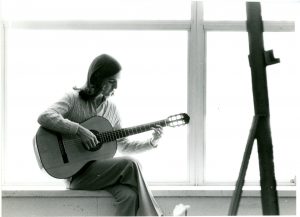 Wearing matching blue T-shirts with white jeans, Dixon played the guitar and her sisters sang as they performed everything from American pop music to traditional Chilean music. They enjoyed some success in their hometown.
"We basically won different kinds of festivals, song festivals, that the schools would promote," Dixon said. "And one of them was pretty big. We won like a $250 prize, which then was really big."
Dixon never considered pursuing a record deal, though. She married her husband at 18, moved with him to North Carolina, and decided to pursue a Music degree at 26.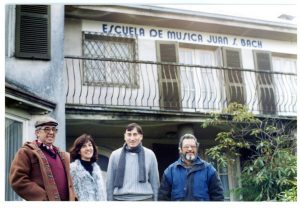 Last June, Dixon was honored to be invited back to Chile to give her first presentation entirely in Spanish. It took her months to prepare for her two-hour talk about the legacy of song and poetry in the political life of Chile.
"While I am grateful for what Professor Dixon has done for my guitar playing, I am even more grateful for our conversations," said Nick Mouser, a Chemistry major who will graduate from WFU in 2019. "During our time together, we have talked about subjects ranging from guitar, Chile, and politics to science, medicine, and mindfulness.
"In short, I think anyone who knows Professor Dixon will tell you that she is a great person to be around."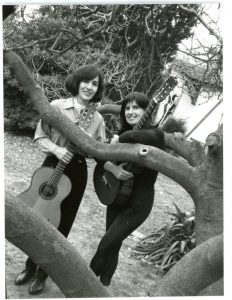 Dixon said she's not sad about her upcoming retirement. She feels sadness should be saved for tragedies, and in her case, she feels "full" from all that she has accomplished at WFU.
When asked how she intends to spend her retirement, Dixon didn't hesitate before answering. She plans to return to her other love – the visual arts.
"I already have a studio. I have never stopped," Dixon said, smiling. "I have over 400 works of art at home."