This is part of a series highlighting retiring faculty in the Undergraduate College at Wake Forest.
By Alex Abrams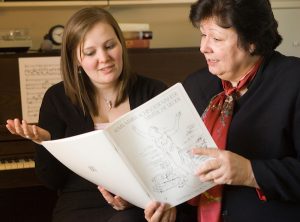 Susan Borwick awoke in a hospital recovery room with 44 staples in her right leg and a melody playing in her head.
When a nurse asked how she was feeling following surgery to remove cancer in her right femur, Borwick admitted she had something other than her health on her mind. She had heard a piece of music in her sleep that she wanted to scribble on paper.
"[The music] had written itself, so when I woke up it was a matter of writing it down," Borwick, 72, said. "This was a melody that was new, and I thought it was good and I thought it was an opportunity."
Borwick eventually worked the melody she heard in 2003 into a piece entitled "Spirit" that she wrote for a doctoral recital.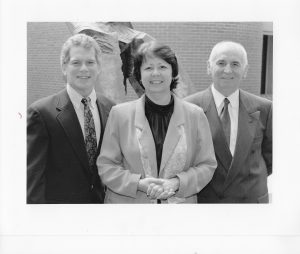 With her self-described "music brain that thinks mathematically," Borwick spent nearly four decades teaching Music Theory, Music Composition, and Musicology at Wake Forest University.
She retired following the 2017-18 academic year, concluding her tenure as a professor with a million stories to share and an influence that extended well beyond the Scales Fine Arts Center.
"At a time in my life when I was struggling to choose a major and my path forward, Susan agreed to meet me at the campus Starbucks," said Ryan Whittington, who earned a Bachelor of Arts degree from WFU in 2014 and is now pursuing a Ph.D. in Musicology at Florida State University.
"And over what I now know to have been a formative Frappuccino, she provided an indispensable sounding board while I worked through my parents' wishes for my career and what I felt was my calling. Susan also gave counsel while I scrambled to reconcile my religion with my changing identity."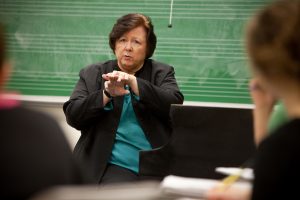 When Borwick arrived on campus in 1982, she figured she would stay for five years and then leave for another opportunity. She had never taught at a liberal arts college, but WFU appealed to her Baptist upbringing and Winston-Salem seemed like a nice city to live in for a short time.
Her five-year plan, however, turned into a distinguished 36 years in the Department of Music.
During that time, Borwick served three terms as Department Chair (1982-1994), one term as Director of what was then the Women's Studies Program (1997-2000), and one year as President of the University Senate (1989-1990).
Growing up in Dallas, Borwick came from a family of seamstresses, not musicians. Her mother had such a bad singing voice Borwick cried as a kid when her mom sang to her. Then, her maternal grandmother – who lived with the family – lost her hearing when Borwick was 9 years old.
"She'd just sit there as I played the piano. I don't think she heard any of it as I'd practice," Borwick said. "She'd say, 'Susan, that was nice. What was that?' She just enjoyed, I guess, the rhythms of it. You can feel music, too."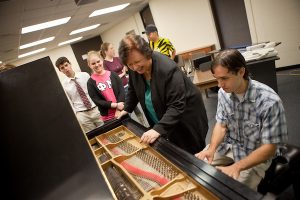 Music has always felt like "home" for Borwick, who served as the Composer-in-Residence at Knollwood Baptist Church in Winston-Salem.
When her fifth-grade teacher asked her to write a score that incorporated two trumpets and two trombones for a PTA show, Borwick went home and composed a piece. She later arranged music for a five-member jazz band she formed in high school known as the Hot Five.
Borwick's identity is not defined simply by music, though.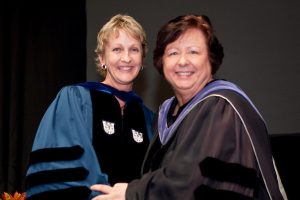 She is an ordained minister, a highly published writer, and a mother. She has presented lectures in Europe, Asia, and North America on topics ranging from spirituality and the arts to women and violence in addition to music.
Borwick said her focus on women's studies – which led to her directing the WFU Women's Studies Program – stems from her childhood spent watching her grandmother, Ava Brown, work as a seamstress.
"I thought that she had a dignity, and I was so proud of her and I would ride the bus with her on those rare occasions when I was allowed in [her shop]," Borwick said.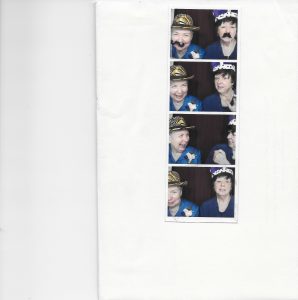 Borwick will continue composing music and working on a book project that examines the life and songs of Amy Beach, whose Gaelic Symphony (1894) was the first symphony written by an American woman composer to gain national attention.
"The joy with which [Susan] taught, sang, spoke, and laughed is etched in my memory as a former student and now honored friend," said Erin Saner, who studied with Borwick at WFU before becoming a family physician with Wake Forest Baptist Health.
"I am certain that wherever she may go next, she will do so with the same joy, laughter, and light in her eyes as she has graced the Wake Forest Department of Music for so many years."