By Bethany Leggett
Tom Phillips is a man of many, many words, a talent that comes in hand for the thousands of scholars he has guided with sage advice, intellectual stimulation, and witty humor during his time as Director of the Wake Forest Scholars Program.
In 2019 alone, he wrote 128 letters of recommendation. "It is a labor of love. I am paid to do it; let's be honest. But it is also, I think, a reflection of the best part of my job, which is just getting to know students well enough to be able to support them in that way," said Phillips, as he sat in his office, named the Tom O. Phillips Museum, earlier this year. Trinkets, gifts, and souvenirs adorn every surface, providing visual evidence of the vibrant life and impact Phillips has had at Wake Forest. "All of the meticulously arranged collectibles have a story. It can look like a lot to those who think Tom is just collecting 'stuff.' He is not. Tom is collecting stories told only to him. That's special," said Nate French, Director of Magnolia Scholars and longtime Scholars suitemate of Phillips.
---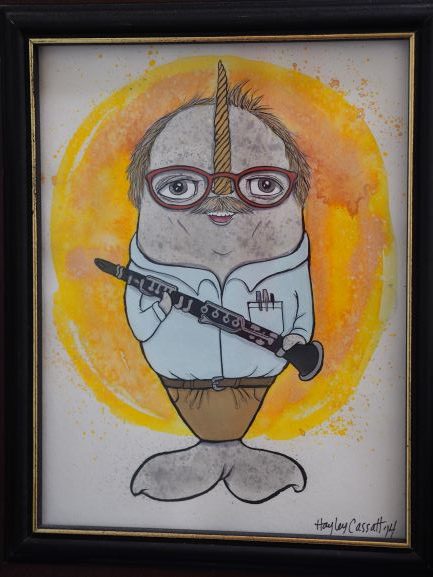 ---
As Director of the Wake Forest Scholars Program, Phillips' job has been as multifaceted as the posters and figurines that filled his office. Whether students wanted to talk to Phillips about their undergraduate scholarship, a new course of study, or navigating post-graduate applications for Fulbright — a program he has dedicated much attention and work towards — or other scholarships, they always found an open mind and attentive ear. "I learned more and more, my best job and best purpose is to listen to them and try and figure out what they need," Phillips said.
"I always describe Tom as having the 'academic quirk' that is necessary for the truly great scholarship officer. It's that little twang of difference that makes him open and accessible to all students," French said. "You're never quite sure what Tom might do and there is a comfort in that. You know that he gets you however you might be! I recall my first program for the Magnolia Scholars. I invited Tom to address the group, and he introduced himself as a bard. In classic times, a bard was a professional storyteller or oral historian often engaged to praise the patrons' own activities — and so it was literary, quirky, and complementary at the same time. Few many have gotten it, but I did. I think that's how Tom made everyone feel — uniquely special."
Even his initials — Tom O. Phillips, or TOP as he is known to many students — sets him above, although he would be the first to shrug off such a suggestion. Yet, student after student is quick to share their own TOP memories.
He's also one of the first to celebrate when students are awarded a post-graduate position. After hearing how "TOP is a legend on campus" from a scholar, Jim O'Connell ('13) sought out Phillips early on. "After getting to know each other a bit – trading novel recommendations and favorite films – he asked me a profound question: 'What makes you tick?' I didn't have a good answer then, but it would eventually become the theme of the personal statement in my Rhodes Scholarship application," said O'Connell, who went on to attend Oxford as a Rhodes Scholar.
O'Connell credited Phillips' encouragement to "buck the trend of designing the 'perfect' resume or transcript and instead explore classes that simply interested me" which led O'Connell to enroll in "everything from Mandarin and British Literature to Chemistry and International Relations." When O'Connell received the news he had been awarded a Rhodes, he picked up the phone to call his mother first and Phillips next. "What struck me was his coolness and sense of perspective. He was very happy and told me to celebrate, but he also said to keep my feet on the ground and look for ways to put this honor to its highest and best use. In an award-oriented culture, I found his advice to be a huge breath of fresh air," O'Connell recalled.
Amanda Tingle, who worked as Administrative Assistant in the Scholars Office for five years, remembered one day in the office when student Gerson Lanza ('13) gave a passing "hello" to Phillips, which turned into a long conversation between the two about Lanza's love of tap dancing and Phillips' encouragement to embrace those talents. This led Lanza to apply for a Richter Scholarship to study tap dancing in Brazil, which later helped launch Lanza's professional career as a dancer and choreographer. "Tom has a way of seeing the potential in everyone he meets. And through his mentorship approach, he helps us all discover our own talents and potential," Tingle added.
TOP's Words of Advice:
"If I've learned one thing from Dr. Phillips, it's that I am the only one who defines the boundaries of my success. He has always pushed me to chase my dreams and aspirations without restraint and I am grateful to have had him as a support and mentor, especially at times when I have doubted my own strength and ability." – Savarni Sanka
"The biggest lesson I've learned from him, though, is to be more reflective as I live on. He doesn't necessarily tell his students to do so, but he often seems to do that himself, which challenges us to do so as well. He is a character, altogether funny but dedicated, light-hearted but authentic. He taught me to find peace in my lightness of being, though he hasn't really confirmed with me whether being itself is to be unbearable or not." – Yong Su An
"Read more. Talk less. Maybe play more music." – Tom Phillips, to his younger self
As a freshman, Yong Su An first met Phillips at the annual Scholars picnic, where he heard the director talk about the study abroad program in Vienna planned for the following year, saying "Ah, the Viennese literature, its rich history and colorful music! Who wouldn't want to join in that exciting adventure with me?" For An, that was impactful. "I was intrigued by his uniqueness and enthusiasm," he said, deciding to apply to the Vienna program. "The semester abroad experience with him was amazing. Ever since then, I visited his office at least once a month to catch up, be inspired by his intellectual maturity, and of course, his room full of colorful postcards and cool figures from all over the world," An said.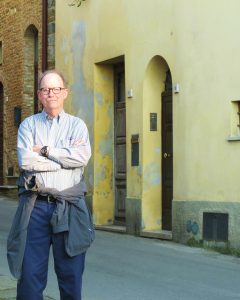 One could think of Phillips' involvement in study abroad programs like an ambassadorship that included postings in Venice (Fall 1991 and Fall 1997), London (Spring 2010), Vienna (Spring 2014 and Spring 2017) and Copenhagen (Spring 2019). Each location held something special for Phillips — from his children taking part in club soccer in Venice in the '90s to enjoying the classical music scene in Vienna with his trained ear from years as a serious clarinet player — but it also left a mark on the students in residence under Phillips' engaging and thoughtful demeanor.
For An, that came at a critical moment of his academic life. "A bit lost, confused and vulnerable, I often took myself downstairs in the basement where [Dr. Phillips'] room was located," An said. "He'd always be reading a novel and would always welcome me into his area to talk. Along with his patient guidance, I got to reflect on a lot of my struggles and eventually turn it into an opportunity for my personal maturity and transformation over time." Their final one-on-one talk in Vienna — in a little juice shop — "confirmed that he was more than just a professor I could gain knowledge from, but more so, a wise teacher I could always rely on and seek refuge in times of trouble."
French saw Phillips' skill in mentoring as an embodiment of a Wake Forest education. "Wake is a place that encourages exploration. At our best, we push students to stretch out in spaces that will be uncomfortable. We help to sharpen the questions that are important to them whether or not we have even considered the issue. It is their time, their questions and their Wake Forest. Knowing that this is their space, we support students when we can and encourage them always. Tom is one of the few people I know who can lead with bad news (i.e. you did not win XYZ Scholarship), follow with a conversation, and the student still leaves encouraged! That's a skill that I am still trying to master," he said.
Phillips' probing, intellectual reputation began during his time as an undergraduate at Wake — he is a Double Deac ('74, MA '78) — although he would also dispute that, calling himself a "terrible gadfly" and a "modest English major" who was slightly above average "but nothing to write home about, nor did I write home about it."
As his graduation approached in 1974, Phillips accepted a lunch invitation with the Director of Admissions and Financial Aid, Bill Starling, who talked him into taking a three-month position as an admissions officer. "It was just supposed to be a stopgap for me. I really didn't have any idea of what I was going to do," Phillips confessed. But the three-month position turned into a permanent position within Admissions, where Phillips interviewed scholarship candidates for four years. Starting in 1978, he enrolled part-time in a master's program in the English Department, while continuing to work full time at Wake, completing his degree in 1982. He spent his time crafting his master's thesis on the end symbolism found in 19th century poet Matthew Arnold's work, a topic he recalls fondly as "pretty esoteric but fun in its own way."
Along the way, he had met and married Janine Tillet, Class of 1976 graduate and daughter of two Wake Forest faculty members, and they had two children, Lowell and Lucy.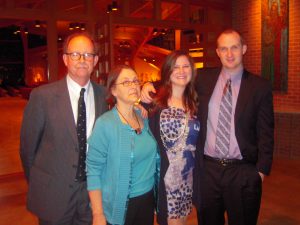 Breaking out of the mold just a bit by getting his Ph.D. from the University of Chapel Hill, Phillips returned to the shade of the magnolias on Manchester Plaza permanently in August 1982, to work with merit-based scholarship programs. By 2003, Wake Forest instituted the Wake Forest Scholars Program, and Phillips has been leading the charge for applications for Fulbrights, Rhodes, and more with each new class of students.
His approach to scholarship is evident through his longevity in the position coupled with his willingness to adapt. "Working over 20 years with Reynolds and other good students to see they fulfill their promise has been perhaps his most important job. It is not an easy one. One must keep up with the students' schedules and their problems and with the opportunities open to them," Barefield observed. "Tom needs to spot the possible roadblocks ahead and to know the faculty that can help overcome them and those who probably won't. It takes experience, knowledge, and tact. It also takes sympathetic understanding. Students on a high wire need a safety net. Tom has been remarkably good at all of this."
For his contributions to the scholarship program, the University has received $120,000 for an endowed scholarship in Phillips' honor.
And in between advising students, leading trips abroad, teaching Interdisciplinary Humanities classes, and writing countless recommendations, Phillips has brought together creative minds across genres of literature, storytelling, and screenwriting for the past few years through WordsAwake!, a celebration devoted to Wake Forest writers and lovers of the word. Poetry readings, literary workshops, and film screenings take place throughout the weekend. A ceremony for inductees into the Wake Forest Writers Hall of Fame is a highlight. Although this year's celebration in April was postponed because of COVID-19, Phillips has already assured WordsAwake fans that the celebrations will occur in 2021.
In addition to organizing next year's WordsAwake, the bard of Wake Forest will return as an adjunct for First Year Seminars and perhaps contribute to the lifelong learning program. And when he isn't in the garden or enjoying a pint of stout, Phillips will continue writing letters of recommendation and correspondence to those students whom he taught, traveled with, and encouraged to take a leap into the academic unknown.
As a Victorian scholar, it is unsurprising that one of Phillips favorite quotes is taken from Charles Dickens: "Whether I shall turn out to be the hero of my own life, or whether that station will be held by anybody else, these pages must show" (David Copperfield, 1849). For the numerous scholars that found a home at Wake Forest, that heroic station was held by TOP.