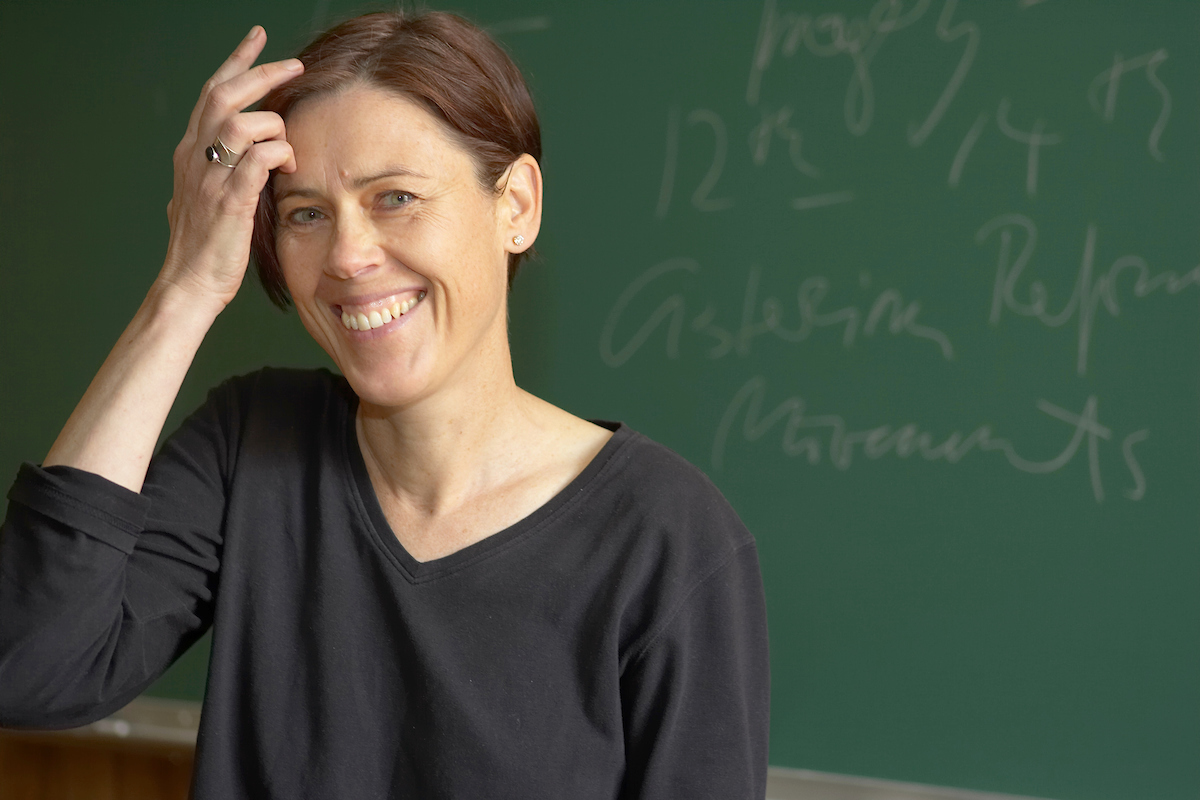 By Stephen Boyd, Professor of the Study of Religions
Among the many memories that stand out for Professor Ulrike Wiethaus from the past three decades of her career at Wake Forest is a student performance from her REL 265 "Culture and Religion in Contemporary Native America" course: "As a part of the course, student volunteers performed Indian Radio Days by Choctaw playwrights LeAnn Howe and Roxy Gordon's at the Close Custody Alexander Correctional Institution in Taylorsville, North Carolina. It is a bitingly funny satire on U.S. colonialism, common American Indian stereotypes, and their commercial exploitation. Some of the characters included the 'Land o' Lakes'/'Land of Flakes' Indian maiden; Son of Dances with Wolves, an imaginary sequel starring Kevin Costner; and New Age hucksters charging dearly for workshops on 'Know Your Indian Inner Child.' The play had the prisoners roaring with laughter while reflecting on U.S. history in Indian country."
This vignette illustrates several facets — humor, pedagogical creativity, and service to the larger community — that best describe Professor Wiethaus and have earned her the admiration, respect, and gratitude of so many with whom she has worked, both on and off campus.
In her 30 years of extraordinary teaching, scholarship, and service at Wake Forest, she has embodied pro humanitate and the Wake Forest teacher-scholar model. She has put her extensive expertise to good work across the College: in the Department for the Study of Religions (the undergraduate and graduate programs); Interdisciplinary Humanities; American Ethnic Studies; Women's, Gender, and Sexuality Studies; Master of Arts in Liberal Studies; and the Professional Development Center.
Her courses represent her deep, broad interests and include "Mysticism in World Religions," "Research Methods in Religious Studies," "Seminar in Jewish-Christian Relations Religion," "Poverty and Social Entrepreneurship," the First Year Seminar "Contemplative Traditions: Past and Present," and "Introduction to Mindfulness Practices." In those courses, she might involve her students in various combinations of assignments that could include traditional library or archival research; group project- or community-based research; contemplative practices; field work with community partners; or video and film recording. Her research and scholarship resulted in many single- or co-authored books, including two monographs, eight edited volumes, three translations and two documentary films that involved student engagement projects (Lakota Rites and Lakota Language & Cultural Preservation, under the leadership of Lakota Elder Harry Charger). In addition, she has published 36 peer-reviewed articles or chapters and six co-authored articles. Her book reviews have appeared in a wide range of leading journals, such as Journal of the American Academy of Religion, Journal of Medieval Studies, Yearbook of the European Society of Women in Theological Research, Germanic Studies, Church History, and Medieval Feminist Newsletter.
Mary Foskett, Wake Forest Kahle Professor and colleague in the Department for the Study of Religions, observes, "[Ulrike] has been a force on campus for creative and interdisciplinary work, a prolific scholar, a dedicated teacher, and a colleague who is cherished by her faculty colleagues. Woven throughout her teaching, scholarship, and service to the university and community has been a deep and enduring commitment to public engagement."
Wiethaus affirms this commitment when she described her approach to teaching. "My ideal model of education is that of a 'university without walls': knowledge should flow freely; we are all lifelong learners; and everybody's an expert in some area of specialization, no matter their location inside or outside of the academy. This is the principle for my lifelong passion for community partnerships and my research projects with colleagues across disciplines," she said.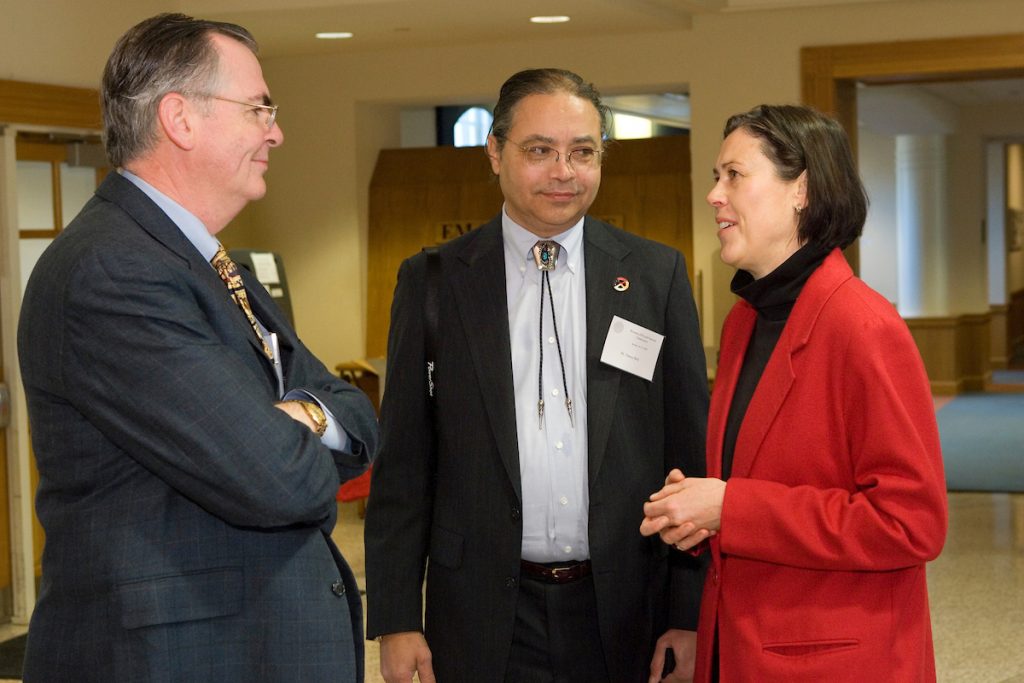 In support of American Indian women's initiatives in the Southeast, she co-founded an annual conference and published a book by the same name: American Indian Women of Proud Nations: Essays on History, Language, and Education, co-edited with Cherry Maynor Beasley and Mary Ann Jacobs. In addition, she helped start the Medical Careers and Technology annual summer camp for Indigenous and Appalachian high school students interested in culturally based medical careers. Most recently, she co-directed the 2020 town and gown conference "Becoming American: Moravians and their Neighbors," which included collaborations with Grant McAllister, Associate Professor of German at Wake Forest University, and colleagues at Winston-Salem State University, Salem College, and the Moravian Archives, Southern Provinces.
She carries another memory encapsulating Southern history, when she and a group of Wake Forest colleagues visited the reconstructed slave cabins at Stagville Plantation, once home to almost 900 enslaved African Americans. The visit was part of a multi-year collaborative research project, "Southern Silences: Trauma and Resilience in American Indian and African American Southern History", which she co-directed with Tony Parent, Professor of History. This, too, generated a book of essays, Trauma and Resilience in American Indian and African American Southern History, co-edited with Parent.
Another collaboration with Gillian Overing, Research Professor of Literature, and other national and international colleagues resulted most recently in American/Medieval Goes North. Earth and Water in Transit, co-edited with Overing. Wiethaus reflects, "As an immigrant, the collaborative, decade-long research project American/Medieval, which I co-directed with Gillian Overing, helped me sort out some of the currents that connect Europe and North America and thus led to a deeper understanding of this country as a white settler society."
Her department colleagues have been inspired by her exemplary integration of multi-disciplinary approaches to teaching and learning. Lucas Johnston, co-Director of the Environmental Program, remembers, "Both Ulrike and I used the Cherokee (Towhee) garden as a learning tool on campus. It was a retention pond behind current Angelou Hall and was inundated with effluent from construction and agricultural runoff. Lots of invasive plant species. We took students out and started removing some of those invasive species (learning along the way, from the landscaping boss what they were). We replaced them with some wild indigenous species, and Ulrike helped to create some walking paths and contemplative benches through that landscape. That's restoration ecology and indigenous knowledge paired together."
Tanisha Ramachandran, Director of Religion and Public Engagement and Associate Teaching Professor, shares, "When Ulrike began as the first Director of the RPE concentration in the department, it was not immediately apparent the revolutionary impact this would have on the study of religion. Not only did she develop community partnerships that continue to benefit us, she also established a credit-bearing internship requirement, which was unique among religious studies departments in the country. Ulrike's innovative vision of the RPE concentration will benefit our students and faculty for years to come."
Colleagues also appreciate her generosity as a mentor. Annalise Glauz-Todrank, Assistant Professor for Jewish Studies, offers, "Ulrike also willingly gave me her time when I needed something. She served as a peer observer for my REL 200 'Approaches to the Study of Religion' course. As part of the process, we met beforehand to discuss my goals for the class and then again afterward to talk about how it went. Her comments informed my teaching of that course and the others that have followed. Ulrike is a true mentor and such an important figure in the department. We will surely miss her."
Lynn Neal, Professor and Chair, echoes these sentiments. "I am so grateful for Ulrike's example as a colleague, academic leader, and mentor. Her amazing teacher-scholar legacy speaks for itself, but what I will remember are the times she sat with me, listened carefully, and helped me think through complicated issues. Her wisdom is profound."
For these and many more reasons, we cannot bear to say goodbye, right now, so we say auf Wiedersehen — until we see each other again.