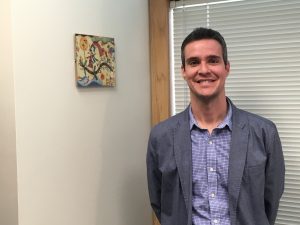 By Alex Abrams
When José Luis Venegas was in the seventh or eighth grade, he found his grandfather's copy of the classic novel One Hundred Years of Solitude by Gabriel García Márquez laying around the house.
"I picked it up and I started paging through it, and I was like 'I'm just going to start reading this and see what happens,'" Venegas said. "It just blew my mind."
Since a young age, Venegas' mind and sense of identity have been split in two. He was born and raised in Spain, but being from Córdoba in the southern part of the country, it was instilled in him early on that he's Andalusian along with Spanish.
Venegas also speaks English and Spanish and has studied literature from both North America and Latin America. He has never wanted his research to be bound by one nationality or even one language.
Venegas has looked for ways to bridge those gaps as an Associate Professor in the Department of Spanish and Italian at Wake Forest University. He enjoys crossing language barriers to show that North America, Latin America, and his native Spain have more in common than some of his students initially believe.
"I took my first course with Dr. Venegas as a shy freshman who was not very confident in her Spanish skills," said Kyra Miller, who will graduate in May with a Business and Enterprise Management degree. "Dr. Venegas fostered an environment where students felt comfortable volunteering their thoughts. His support made me less nervous to join in on the discussions.
"By the time I took my last course with Dr. Venegas as a senior, his encouragement had led me to participate more not only in his classroom but in each of my courses."
After graduating from college in 2002, Venegas decided to leave Spain to spend one year taking graduate school classes in the United States. He chose to attend the University of North Carolina, believing he could study the works of novelist James Joyce with a professor whom his mentor in Spain had recommended.
However, on his first day in Chapel Hill, Venegas was surprised to learn that the longtime professor was retiring. He soon made an even bigger discovery.
"When I came to Chapel Hill, [I learned] there's something called Comparative Literature and that was music to my ears because I was finally able to establish connections between my two languages and literatures and traditions that I was familiar with," Venegas said.
Comparative literature is the study of literature across linguistic and cultural boundaries.
Venegas said his plans of returning to Spain to teach changed when he met and shared an office at UNC with another teaching assistant at the time – Jessica Shade Venegas, who is now his wife and an Assistant Teaching Professor in Spanish at WFU.
North Carolina became Venegas' home, and WFU was one of his top choices at which to teach because, like him, the university is not all one thing. It is not a research institution that cares only about its professors publishing work.
Venegas is in the process of putting the final touches on his third book, The Sublime South, which is scheduled to be released in July 2018.
His first book, Decolonizing Modernism (2010), examines the ways modernity crosses linguistic barriers from Joyce to Spanish-American writers. His second book, Transatlantic Correspondence (2014), explores the struggle Spain and Latin America have faced with the notion of being modern.
The Sublime South is more autobiographical, arguing that Andalusia is Spain's "Orient" and that the southern part of the country where Venegas is from has been viewed as less modern than northern Spain.
"The idea of modernity in the Spanish world has always intrigued me," Venegas said. "So everything I've written could be summarized by looking at modernity from my Hispanic perspective."
Read a recent publication by José Luis Venegas