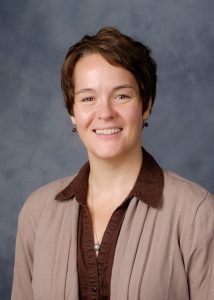 By Alex Abrams
Leah Roy can teach an actor the proper way to hold a handkerchief, use a snuff box, and curtsy while wearing a corset.
She also has a shelf full of etiquette books in her office in case a director needs to know how a gentleman in the Elizabethan era or a member of Louis XIV's court should behave.
The Associate Teaching Professor of Theatre has become an expert on minding her manners – along with everyone else's over the past few centuries.
"I get called on to answer questions like 'OK, our play is taking place in 1890s England. Would a man take a lady's hand? Would he ever kiss her bare hand? What side of the street do gentlemen walk on?'" Roy said. "I love looking at that kind of stuff."
A former Shakespearean actor, Roy has spent the past 16 years at Wake Forest University teaching students everything from the fundamentals to the more complex in her Acting I, Acting II, and Acting Shakespeare courses. She also passes along encouraging words and life lessons.
To get the women in her Period and Style course to understand how wearing a corset would affect their acting in a Victorian play, Roy allowed them to wear corsets every day in class. To make the experience more bearable, she threw a tea party for the class.
Roy's students range from aspiring actors to beginners who are more interested in honing their public speaking skills. Should any of them need to speak with a cockney accent for a play, she can assist as a voice and dialect coach.
When WFU put on a production of the British drama Our Country's Good in 2014, Roy taught the cast how to speak in eight different dialects, including Scottish, Irish, Yiddish, and a new one made up for the play.
"It was a challenge for sure because some of them were dialects that I knew and I had studied and I felt very confident in," Roy said. "Others I was learning and I was only maybe one or two steps ahead of the student."
Roy has always been part actor, part teacher.
As a kid, she used the unfinished basement in her childhood house as a playroom. Depending on her mood, she sometimes walked downstairs to the basement and pretended she was acting in the plays that her parents took her to see.
Other times Roy grabbed pens and old notebooks and played "school" in her basement, trying to mirror what her parents did every day at their jobs. Her father was a Business professor at Minnesota State University Moorhead, and her mother was a longtime educator.
"I always knew I wanted to be a teacher and that just made a lot of sense to me," said Roy, who earned a Master of Fine Arts degree in Acting from the University of Wisconsin. "I thought that what I would do after graduating with my MFA is to go and start a career as a working actor and then … oh, in 10 or 15 years or in 20 years maybe I would end up teaching."
After college, Roy toured nationally with the Montana Repertory Theatre, playing the ill-tempered character Mrs. Dubose in the company's production of To Kill a Mockingbird. She then went overseas as a member of what's now known as the American Shakespeare Center.
Roy doesn't act much anymore, though she plays five characters in WFU's production of Spring Awakening, which runs through April 15 at the Scales Fine Arts Center.
"Leah is one of those rare professors who measures her students not just by their end products but by their journeys," said Alyssa Gera, who graduated from WFU with a double major in Theatre and Communication in 2015.
"Athletes, musicians, scientists, and thespians alike leave her classes with more confidence, creativity, and care for the arts than they walked in with."