Main Content
Named in honor of Hubert McNeill Poteat, who taught at Wake Forest University from 1911 to 1956 and was widely known and respected as a Latin scholar, this lecture series is designed to recognize and celebrate the many achievements of our faculty in research, scholarly, and creative work. The annual lectures are held each spring and are alternately sponsored by the Office of the Dean of the College and the Graduate School of Arts & Sciences.
The 2021 Poteat Lecture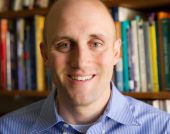 The 2021 Poteat Lecture was given on March 31, 2021, by Dr. Alan Brown (Associate Professor and Bryant/Groves Faculty Fellow, and Chair of the WFU Department of Education) on the topic "Lizzie, Mamie, & Mo'ne: Exploring Intersectionality through an Examination of the History of Women in Baseball." Brown is a former high school English teacher who now serves as department chair, secondary education program director, and English education coordinator. He teaches undergraduate and graduate courses on topics including action research, adolescent literacy, arts integration, educational leadership, English methods, and young adult literature. His scholarly interests include working with secondary and college students as well as middle and high school teachers and athletic coaches to critically examine the culture of sports in schools and society while connecting contemporary literacies to students' extra-curricular interests. He is the co-editor of Developing Contemporary Literacies through Sports (NCTE, 2016) and has published in numerous education and sport journals. He organizes the Skip Prosser Literacy Program, a collaboration between Wake Forest Athletics and the Department of Education, and he leads the Paisley IB Magnet School Sports Literacy Program, a weekly after-school program for eighth-grade boys that supports youth through academic, social, and community engagement. 
Poteat Lecture Series
| Academic Year | Date | Speaker | Department | Title |
| --- | --- | --- | --- | --- |
| 2020-2021 | March 31, 2021 | Alan Brown | Education | Lizzie, Mamie, & Mo'ne: Exploring Intersectionality through an Examination of the History of Women in Baseball |
| 2018-2019 | April 9, 2019 | Ellen Miller | Anthropology | Decoding Messages from the Past |
| 2017-2018 | April 11, 2018 | Stan Meiburg | Sustainability | Sustainability and Leadership |
| 2016-2017 | April 12, 2017 | Claudia Kairoff | English | Raising Her Voice:  A Critical Edition of The Works of Anne Finch, Countess of Winchilsea |
| 2015-2016 | April 25, 2016 | Miles Silman | Biology | Real-World Sustainability and the Future of Andean and Amazonian Biodiversity |
| 2014-2015 | April 21, 2015 | Mary Foskett | Study of Religions | Biblical Studies and the Humanities: Reflections on Past Practices and New Directions |
| 2013-2014 | April 28, 2014 | Sam Gladding | Counseling | Beyond Active Listening: Creativity, the Arts and Positive Mental Health |
| 2012-2013 | April 9, 2013 | Mary Deshazer | English/Womens & Gender Studies | Representing Breast Cancer in the Twenty-first Century |
| 2011-2012 | April 12, 2012 | Dan Locklair | Music | Following My Muse:  The Music of Dan Locklair |
| 2010-2011 | April 4, 2011 | Katy Harriger | Politics & International Affairs | What Does Brown Mean?:  The Supreme Court, School Desegregation, and Legal Change |
| 2009-2010 | April 5, 2010 | Eric G. Wilson | English | Forgiveness, the Gates of Paradise, and William Blake's Nervous Fears |
| 2008-2009 | March 26, 2009 | Paul D. Escott | History | The Lincoln Icon:  Thinking About Myth and Reality in our History |
| 2007-2008 | April 16, 2008 | Susan Fahrbach | Biology | Plastic Bee Brains |
| 2004-2005 | March 17, 2005 | David Coates | Political Science | Campaigning in Poetry, Governing in Prose:  Tony Blair and New Labour Britain |
| 2003-2004 | March 18, 2004 | Earl Smith | Sociology | The Modern World System:  Academics and Athletics in the New Millennium |
| 2002-2003 | November 4, 2002 | Dilip K. Kondepudi | Chemistry | The Enigma of Asymmetry |
| 2001-2002 | October 24, 2001 | Paul M. Ribisl | Health and Exercise Science | The Next Y2K Problem – Obesity:  Genes, Gluttony or Sloth? |
| 2000-2001 | March 29, 2001 | Margaret Supplee Smith | Art | The Magic Mountain:  Imagination and Image in the Making of American Ski Resorts from Sun Valley to Sunday River |
| 1999-2000 | April 5, 2000 | Candelas Gala | Romance Languages | From Parody to Pathos:  Lorca, Dalί, Bunuel, in the artistic and cultural landscape of the 20th century Spain |
| 1998-1999 | February 18, 1999 | Deborah Best | Psychology | Gender and Culture |
| 1997-1998 | November 19, 1997 | Raymond Kuhn | Biology | Health: The United States and the Third World |