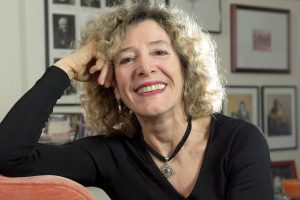 This is part of a series highlighting retiring faculty in the Undergraduate College at Wake Forest.
By Alex Abrams
Candelas Gala has played the piano in Spain, waited tables in Germany, and gone on archaeological digs in England.
She studied in France when she was 15 years old, and a few years later, she made her first trip to the United States to spend a summer taking classes in Colorado.
Gala is passionate about seeing the world and viewing it in different ways. She has examined the avant-garde and written about the connections between art, poetry, Physics, and other things that don't seem to be related.
"Her intellectual curiosity is contagious, and any conversation you have with her leaves you a different person with a better perspective on the world around you," said Jeff Polidor, who graduated from Wake Forest University in 2015 with a Bachelor's degree in Spanish and Psychology.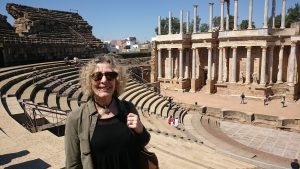 For the past 40 years, Gala's research and her classes at WFU have been so diverse and spanned so many disciplines that they can't be easily catalogued.
Gala, the Charles E. Taylor Professor of Romance Languages, has been a free spirit in the Department of Spanish & Italian. She has shared her love for Spanish poet Federico García Lorca and invited her classes to her home for dinner – under the condition that all conversation was in Spanish.
Not to be limited by one field of study, Gala held a symposium at WFU that focused on Women's, Gender, and Sexuality Studies – which is another of her many interests.
Gala will retire at the end of this semester. To celebrate, she booked a two-week vacation to Japan with her husband and retiring Reynolds Professor of History Paul Escott.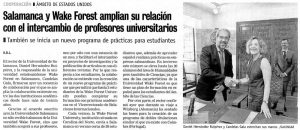 Gala admits she has had two lives, one in her native Spain and another in the U.S. She served as Chair of what was then WFU's Department of Romance Languages for nine years and Director of WFU's study abroad program in Salamanca, Spain.
"She was always there for us, and we all felt her love and concern for us as her second family," said David Lee, a 1982 WFU graduate who is now the Principal at Cedar Lee Middle School in Virginia.
"She was like a mother to us, except in 1978 when I was there [in Salamanca] she was too young for that role. Maybe then more like an awesome big sister?"
Growing up in the coastal city of Santander, Spain, Gala was enrolled in piano lessons at 7 years old. Her father's expectation was that she would continue studying the piano at 18 instead of pursuing a college education.
However, Gala knew she wanted to leave Spain. A literature teacher at her Catholic high school had also gotten her interested in poetry.
"The way that she taught literature really had a resonance with me, and I remember beginning to read the Romantic poets because they were very wonderful, particularly for a young person like I was," Gala said.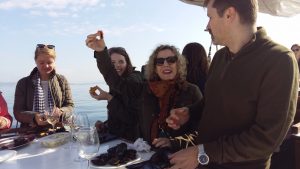 When the time came for Gala to make plans for her life after graduation, she told her father that she wanted to quit playing the piano. This went against his wishes, but Gala's mother intervened on her behalf and encouraged her to leave for a university.
"My father, he was a very forward person. I mean we lived in a dictatorship, and he was extremely progressive," Gala said. "But he felt that the university education was for my two brothers, and I was going to have the typical woman's education, which was piano, dance, and foreign languages."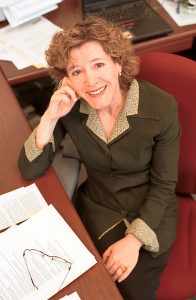 Gala was hired as a Spanish Instructor at WFU in 1978 as she was completing her Ph.D. She had initially planned to teach American Literature in Spain, but everything changed after she married an American man and decided to remain in the U.S.
She switched her focus to Spanish poetry because it just made sense with her Spanish background and accent.
"Candelas' legacy of unique approaches to studying foreign languages – whether in poetry seminars or study abroad or languages across the curriculum – continues to have a lasting impact on our students," said Anne Hardcastle, Associate Professor and Chair of the Department of Spanish & Italian.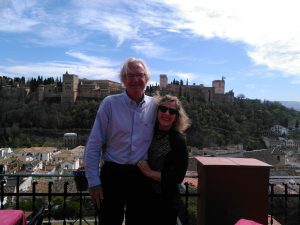 Gala has written extensively about Lorca, publishing several books on the charismatic poet, playwright, and artist. Her next book – which she recently completed – focuses on the ways poets have expressed their concern for the environment.
Gala said she wouldn't describe her retirement from WFU as a "sad" moment. She already has an idea for her next book project, and there is still a lot more of the world she hopes to explore.
"It is a passage of time," Gala said of her retirement. "The same way that I was saying that you could have different lives within your own life, it is passing a page and it's no longer saying my life is ahead of me. It's not that anymore."