Main Content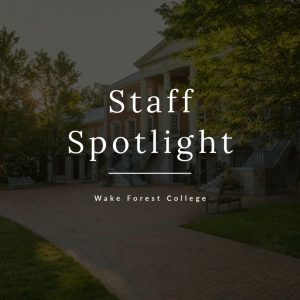 College staff members are celebrated for their longtime service at Wake Forest. As part of this celebration, we spotlight their stories through short profiles here.
Undergraduate College
Wake Forest College began as a manual labor institute in 1834, with an initial class of just 16 young men.  Today, 183 years later, more than 5,200 undergraduates and a faculty of more than 480 comprise the cornerstone of our collegiate university, Wake Forest College.  Wake Forest remains dedicated to maintaining the highest standards of education and to preparing our students for life in a challenging, global environment.