Main Content
UPDATED 3.16.20
We hope you and your loved ones are safe and healthy with these changing and challenging circumstances. As our university responds to COVID-19, with the cancellation of classes and transition to remote learning, all Spring 2020 New Ideas events have been canceled indefinitely. We will reevaluate in coming weeks. Please put the health and wellbeing of you and your family first.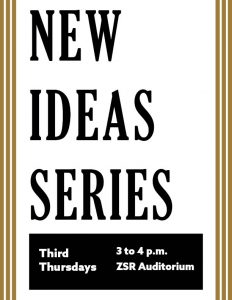 The Office of the Dean of the College invites you to learn more about the engaging scholarship of our College colleagues. The New Ideas Series will occur on the third Thursday of each month of the academic year in the ZSR Auditorium.  
The New Ideas Series will focus on the latest research and innovative ideas of our College faculty. Presentations will be brief so we can pack more new ideas into the hour. Four faculty from across the divisions at different stages of their careers will present for 8 minutes each.
2019-2020 Schedule
September 19, 2019
October 17, 2019
November 21, 2019
February 27, 2020*
*Postponed one week due to
Founder's Day Convocation
For more information, please contact Bethany Leggett
Office of the Dean of the College, 336.758.3771
Spring 2018

Fall 2017